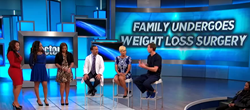 ...bariatric surgery may be one of the healthiest decisions a patient struggling to lose a significant amount of excess weight can make.
Los Angeles, CA (PRWEB) February 16, 2016
According to an article published February 11th on Inquisitr, a recent study performed by researchers at Brigham Young University determined that successful bariatric surgery can actually prolong the life spans of people struggling with severe obesity. Commenting on this article, Los Angeles bariatric surgeon Michael Feiz M.D., F.A.C.S. notes that, while bariatric surgery is well known to help mitigate the dangerous comorbidities related to obesity such as heart disease and type 2 diabetes, this is just one of the many studies that more fully explains its lifesaving effects. The doctor notes that, because obesity is the second most preventable cause of death after smoking, bariatric surgery may be one of the healthiest decisions a patient struggling to lose a significant amount of excess weight can make. Additionally, Dr. Feiz applauds the idea posited in the article that people considering undergoing bariatric surgery have no real incentive to delay treatment, adding that living with severe obesity is far more dangerous than any surgery.
Dr. Feiz explains that, while everyone knows exercise and a low-calorie diet are the go-to methods for weight loss, the difficulty of making these changes permanent means that people with with large amounts of excess weight to lose typically struggle to shed it – and keep it off. One way in which bariatric surgery can help is by addressing the physiological factors in play that makes dieting so difficult. For example, the gastric sleeve procedure, while not only removes a large portion of the stomach, curbs the release of ghrelin, a hunger inducing hormone while also shrinking the size of the stomach. The result vastly limits those all too common hunger pangs that make long-term weight loss so difficult.
The doctor explains that, while every patient is unique and there is not a one size fits all solution for every one of them, the gastric sleeve procedure is not only one of the least invasive procedures available, it is one of the most reliably successful. Of course, the doctor notes, the lifesaving results of bariatric surgery are not fully realized until the patient fulfills his or her commitment to eating less overall. That is why Dr. Feiz & Associates note that they boast an expert team that is comprised of not only bariatric surgeons and doctors, but also psychologists and nutritionists who can support patients before and after their procedures in order to meet their long term weight loss goals.
Dr. Feiz concludes that, while everyone desires a long and happy life, bariatric surgery is just one of the ways those with severe obesity and large amounts of excess weight to lose can accomplish this goal. For more information about the success that patients of Dr. Feiz and Associates have enjoyed, interested readers may call the bariatric surgery center at 310-855-8058 or visit it online at http://www.DrFeiz.com.