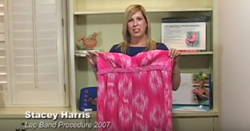 Los Angeles, CA (PRWEB) March 25, 2016
An article published March 15th on The Observer explains why losing weight and keeping it off is a challenge so many people struggle with, particularly those with severe obesity. The author of the article explains that when people lose weight, physiological processes in the body make it so that the weight can easily be quickly regained.
The reason for this, the author notes, is that weight regain is actually a survival mechanism from humans' distant days as hunter-gatherers when food was often scarce; the body actually senses the weight loss as a threat to survival and begins to release hormones that lead to feelings of hunger to ensure a strong motivation to obtain as many calories as possible. Los Angeles area bariatric surgery clinic, Dr. Feiz & Associates, explains that these biological processes may very largely account for what is known as the "yo-yo" effect in which individuals manage to lose weight, only to quickly regain it.
Michael Feiz, M.D., F.A.C.S. explains that, while it is common knowledge that exercise and strict adherence to a balanced, low-calorie diet are surefire methods for weight loss, the difficulty of making sticking to low calorie diets over the long-term means that people with large amounts of excess weight to lose typically struggle both to lose it and, even more so, to keep it off. Dr. Feiz notes that one way in which bariatric surgery is effective is that it can address these physiological and hormonal factors that make dieting so difficult.
The gastric sleeve procedure is a scientifically proven weight loss surgery technique that works in two ways. Firstly, the procedure removes a significant portion of the stomach, which makes its overall capacity much smaller. For the patient, this results in feeling satiated faster from smaller meals and servings. Secondly, the procedure curbs the release of ghrelin, a hunger inducing hormone, Dr. Feiz explains. Of course, the doctor notes, the full benefits of the procedure are not attained unless the patient fulfills his or her commitment to eating significantly less overall. To help with the psychological aspect of changing patients' relationship with food, Dr. Feiz & Associates boasts an expert dietician, who helps patients develop and maintain an effective diet plan.
Dr. Feiz notes that, for people with severe obesity and large amounts of excess weight to lose, weight loss surgery is the best medical intervention known to improve both the quality and length of their lives. For more information about the success that Dr. Feiz and his patients have attained, or to schedule a consultation with the doctor, interested readers may call Dr. Feiz & Associates at (310) 855-8058 or visit the clinic's website at http://www.DrFeiz.com.