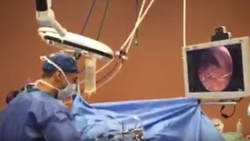 The reason why a single procedure is capable of producing so many benefits is because of how closely obesity is tied to so many health conditions.
Los Angeles, CA (PRWEB) December 02, 2015
According to an article published November 4th on WedMD, recent data presented at the American Society for Metabolic and Bariatric Surgery's recent Obesity Week meeting revealed that bariatric surgery may have an even greater benefit to those suffering from chronic joint pain than was previously known. The study, which tracked over 2,200 patients over three years after their surgery, found that 57 percent of all patients who had "significant mobility limitations" were no longer burdened by those same limitations. Additionally, it was found that 70 percent of patients that previously suffered from severe knee or hip pain saw improvements in their pain after the procedure. According to Los Angeles bariatric surgeon Michael Feiz M.D., F.A.C.S., this is just one of the many advantages of bariatric surgery.
Dr. Feiz explains that it can sometimes be difficult to understand the full scope of the benefits patients gain through electing weight loss surgery, mostly due to the fact that the vast majority of studies only focus on a single benefit, such as improvements in joint pain, diabetes, heart disease, or one of many other conditions. He notes that the reason why a single procedure is capable of producing so many benefits is because of how closely obesity is tied to so many health conditions.
He explains that the primary purpose of bariatric surgery is to help patients lose a significant portion of their excess weight, yet for many patients, simply losing weight is not the end goal. This makes weight loss surgery unique compared to many other types of surgery, Dr. Feiz explains. Typically, the direct result of a surgical procedure (when successful) is an immediate and direct fix to the problem that necessitated the surgery. Yet, Dr. Feiz explains that weight loss surgery's immediate effect is to give the patient the necessary tools to lose a significant amount of weight. The most substantial results, he explains, often manifest themselves in the months and years after the procedure.
While joint pain can truly be a debilitating condition that can seriously reduce a patient's quality of life, he explains that other effects of weight loss surgery can increase not only the quality, but the length of a person's life. Dr. Feiz notes that he practices the most effective types of weight loss surgery, including the needlescopic sleeve gastrectomy, which is shown to be extremely effective while resulting in the least amount of scarring. For more information about how obese patients can get on the road to a healthy lifestyle and get out from under the burden of obesity, interested patients can call Dr. Feiz and Associates at 800-868-5946 or visit the bariatric surgery center online at http://www.DrFeiz.com.