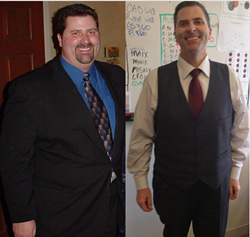 This study exemplifies the consistent positive results experienced by weight loss surgery patients all around the world.
Los Angeles, CA (PRWEB) September 25, 2015
According to an article published September 18th in the journal, Diabetes, Metabolic Syndrome and Obesity: Targets and Therapy, a study conducted amongst obese patients in the United Arab Emirates concluded with similar positive results to many other bariatric surgery studies that have come before it. Overall, patients who had weight loss surgery lost an average of 68 percent of their excess weight when examined one year after surgery. The study also said that the weight loss led to significantly normalized hemoglobin levels in patients with type 2 diabetes, and improved levels of triglycerides in the bloodstream. According to Los Angeles bariatric surgeon Michael Feiz, M.D., F.A.C.S., this study exemplifies the consistent positive results experienced by weight loss surgery patients all around the world.
However, while the consensus on the safety and effectiveness of bariatric procedures is increasingly crystal clear, Dr. Feiz notes that patients should not interpret the plethora of positive study results to mean that successful weight loss surgery can be performed by just any surgeon or medical clinic. Dr. Feiz explains that, although the benefits of weight loss surgery far outweigh the risks, patients should still turn to an experienced and knowledgeable surgeon who will do everything they can to reduce the chances of any complications inherent in any surgical procedure. Dr. Feiz explains what surgeons like him do to provide positive outcomes.

Preventing Surgical Complications – While the bariatric procedure itself is in no way the cure for obesity by itself, a well-executed procedure is essential in getting patients off on the right foot on their weight loss journey, notes Dr. Feiz. For this, he notes, there is no substitute for the experience that comes with performing a large number of procedures. Dr. Feiz and Associates are proud of their practice's zero percent mortality rate, and strive to uphold their stringent safety standards for every one of their future patients.
Ensuring Proper Nutrition – Many of the complications faced by bariatric patients, Dr. Feiz explains, are due to nutrient deficiencies that may sometimes go along with a reduced intake of food. Dr. Feiz constantly stresses the importance of taking nutrient supplements in insuring proper nutrient health during the period of weight loss following the procedures.
Dr. Feiz explains that, while it is understandable for patients to be excited by the weight of the evidence showing the benefits of bariatric surgery, it is still a serious, life-changing procedure that needs to be performed by highly capable professionals. Any patients interested in learning more about weight loss surgery, the successes of Dr. Feiz and Associates' patients, or who want to schedule an appointment today, can call the medical group at 310-855-8058 or visit them online at http://www.DrFeiz.com.