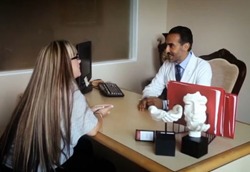 Patients should only opt for treatments and procedures that have scientific proven benefits that far outweigh those risks
Los Angeles, CA (PRWEB) October 20, 2015
According to an article published October 15th by Business Insider, dietary supplements, including those promising to help people lose weight, are responsible for sending 23,000 people to the emergency room each year. The article explains that these hospitalizations are particularly noteworthy due to the fact that the majority of these supplements are billed as "all natural," and carry with them the implication that they are completely safe. According to bariatric surgeon Michael Feiz, M.D., F.A.C.S., it is also important that people view and understand these hospitalizations differently than situations where a person suffered side-effects as a result of a drug or legitimate medical treatment. He explains that the majority of these supplements do not have any scientific backing for their claims, so people are putting themselves at risk without getting any real benefits. While nearly every medical procedure has some sort of risk, Dr. Feiz explains that patients should only opt for treatments and procedures that have scientific proven benefits that far outweigh those risks. Weight loss surgery, he explains, is one of those procedures.
While like any surgery, bariatric procedures do have some risks associated with them, the life-changing benefits they can bring about for severely obese patients are too great to ignore. Dr. Feiz explains that the direct and obvious benefit of weight loss surgery is that it helps obese patients lose a significant portion of their excess body weight. On average, he explains, patients can expect to lose between 40 and 60 percent of their excess body weight in the first year after their procedure. Just as important, the majority of patients are able to maintain most of their weight loss for an indefinite period following the procedure. The doctor also notes that, at present, there is not a single over the counter supplement – and no known prescription drugs – that have produced anything like the benefits of weight loss surgery.
Dr. Feiz also explains that, while losing weight on its own can be incredibly beneficial, some of the greatest health benefits occur when the weight loss results in the remission of dangerous co-morbidities such as type 2 diabetes and heart disease that are directly tied to obesity. In fact, Dr. Feiz adds that patients with these co-morbidities are being increasingly viewed by doctors and insurance providers as the best candidates for weight loss surgery because of the spectacular upside the procedures have for their health.
Finally, Dr. Feiz says that the best way for patients to get a better idea of the risks and benefits weight loss surgery can have for them is to receive information in-person from a respected bariatric facility. At Dr. Feiz and Associates, free regular seminars are held to provide patients with the information that they need. For more information about the seminars, or weight loss surgery in general, prospective patients can call Dr. Feiz and Associates today at 310-855-8058 or visit them online at http://www.DrFeiz.com today.