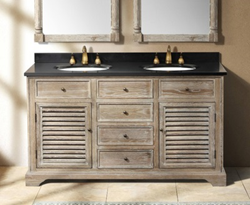 A driftwood finish can bring out the simple, natural aspect of a spa bathroom, but it also meshes well with the more rugged, earthy look and feel of a rustic bathroom.
(PRWEB) August 04, 2014
HomeThangs.com – the Online Home Improvement Store has made their goal to deliver the right product to the consumer. With that in mind, shopping and home design tips, as well as special product selections are being introduced.
Blonde and gray wood, reclaimed wood, and driftwood – both authentic and replica – have become must-have, hot-ticket items for everything from floor boards to ceiling beams and all the furniture and furnishings in between. Driftwood bathroom vanities are at the forefront of this trend, combining a lightly weathered appearance with a sturdy construction that manages to be practical, casual, and beautiful all at once. HomeThangs.com has introduced a guide to why these vanities work so well, and how to really make them shine.
It's worth saying up front that not very many bathroom vanities are made out of actual driftwood, or even reclaimed wood for that matter. While recycled or upcycled wood is great for a decorative accent, it's a little too rough and porous for use in a bathroom. So keep in mind that most so-called driftwood bathroom vanities are made from new hardwood that's artificially weathered and intentionally finished to look much older and more worn than it really is.
There are two big up sides to this. First, new wood is much less expensive than high quality reclaimed wood, which has to be hand selected for quality and regularity. Second, because the weathering is intentionally applied rather than organically acquired, the finish will be more consistent, and the surface of the vanity will be much smoother (no splinters) and well finished to prevent water damage.
Part of the reason driftwood bathroom vanities are so popular is that this simple finish works well with a wide variety of different bathroom styles. A driftwood finish can help bring out the simple, natural aspect of a spa style bathroom, but it also meshes well with the more rugged, earthy look and feel of a rustic bathroom. A weathered gray wood can feel homey in a cottage style bathroom, but help evoke a sandy, wind-swept look for a seaside style or maritime themed bath.
Driftwood bathroom vanities have a much more casual look and feel than most other wood finishes (and particularly dark wood finishes), which means even a fairly traditional design won't feel quite as ornate or formal as it would in a different finish. On the flip side, because they have that great natural appeal, driftwood bathroom vanities can keep a more modern bathroom from feeling too cold – again moderating a slightly more formal looking style so it's more comfortable and casual to use.
Because driftwood bathroom vanities are such chameleons, working equally well with traditional, modern, and contemporary bathroom styles, they have an amazing amount of crossover appeal, which can be great for a home's resale value. Regardless of a potential buyer's taste, a driftwood finish can be a relatively neutral point. Because a simple, bare wood finish gives almost any style bathroom a more relaxed, contemporary, transitional feel, driftwood bathroom vanities can make the whole bathroom look more inviting to a wider variety of stylistic sensibilities.
The versatility of driftwood bathroom vanities also means they probably aren't going away any time soon. Natural finished wood is hugely popular throughout the entire home right now, but often it's with a very distinctive style: shiplap walls, salvaged wine barrels, factory style furniture, and so on. Driftwood bathroom vanities are a much quieter offshoot of this trend, which makes it possible to try out this trend without going too wild or thematic with the overall design. After all, It's the wood itself – rather than the design – that's the star of the show.
To see more driftwood bathroom vanities, check out the full article here.
HomeThangs.com is not only a home improvement superstore, it also provides expert design tips and a comprehensive shopping guide, taking the ideas from professional interior designers, and offering tips to the consumers on how to pick the products to best suit their needs.