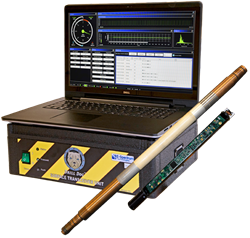 We are drilling faster than ever," said Igor Todorovic, President of Zone Direct MWD Services, Ltd "By integrating the Drill Dog technology with our innovative mud pulsers, we could rapidly offer our customers a fully-retrievable modular tool that is both state of the art and cost effective
San Antonio, Texas (PRWEB) October 01, 2017
The Drill Dog™ Measurement While Drilling (MWD) tool has surpassed 10,000 hours of use on operational drilling rigs with no failures.  Drill Dog incorporates new ElectroMagnetic (EM) telemetry technologies that have proven to transmit data to drillers faster and at greater drilling depths than other MWD tools. This new product is targeted for the upstream oil and gas market; specifically, service companies drilling directional and horizontal wells. To date, the Drill Dog MWD tool has been used on drilling rigs operated by multiple oil companies in numerous formations including the Eagle Ford and many formations in Western Canada.  The Drill Dog continues to perform extremely well, even in formations not traditionally considered well suited for EM MWD tools.  The maximum measured depth the tool has achieved so far is 18,663 ft. (5690 m).  Testing and sales of the Drill Dog tool in the Permian Basin is scheduled to commence in the fourth quarter of 2017.
 
WHY DRILLERS NEED MWD TOOLS
Prior to drilling a gas or oil well, well planners design the well trajectory to meet drilling targets; avoid nearby wellbores; and provide a baseline for wellbore certification. During the process of drilling, correct placement of the wellbore to meet production and regulatory requirements is a key job of the drilling team. To accomplish this task, drillers rely on MWD tools to obtain real-time survey data from sensors located thousands of feet underground near the drill bit so they can continually compare planned vs. actual well trajectory and make directional corrections to keep the well on the planned course. 
OPEN ARCHITECTURE
The Drill Dog tool is designed using an open architecture so it can be configured with standard directional modules, batteries, running gear, and connectors allowing drillers to leverage their existing capital equipment and minimize the need to purchase costly proprietary components. Drill Dog can be deployed as a stand-alone tool or can be integrated via the Drill Dog Tool Interface Bus™ with any compatible third-party component such as a mud pulser or rotary steerable tool. 
 
HOW IT WORKS
Drillers define an MWD tool's sensitivity as the minimum input signal required to decode a received message. The Drill Dog tool's ability to decode small input signals translates to performance at greater depths using less tool battery power than current MWD tools.  For example, before the introduction of the Drill Dog tool, the best MWD tools achieved sensitivities from 0.01 to 0.02 millivolts (1 millivolt =1/1000th of 1 volt).  the Drill Dog tool has incorporated new technologies to achieve a signal sensitivity of less than 0.00000316 millivolts (0.316 microvolts) making it over 30 times more sensitive than its nearest competitor.  The Drill Dog achieves this unprecedented sensitivity by incorporating E-Spectrum Technologies' proprietary Intelligent Channel Coding™ (ICC) and Multi-mode Surface Receiver™ (MMSR) technologies. 
 
INNOVATIVE TECHNOLOGY
ICC is an adaptive digital modulation technology that features exclusive "noisy channel" data encoding algorithms that allow drillers to decode significantly smaller signals than was previously possible. This is accomplished while simultaneously providing improved immunity to communication channel burst noise. MMSR is a complementary modally-agile receiver technology that automatically adjusts to the ICC content sent from the MWD tool. The MMSR allows the Drill Dog tool to autonomously adjust the ICC channel content without intervention from the driller or the need for a reverse communication channel which means the Drill Dog surface receiver has considerably greater noise immunity than conventional, non-agile, single-mode receivers. When compared to current MWD tools, these technologies improve the Drill Dog tool's noise rejection and aggregate receiver sensitivity while simultaneously drastically reducing the power needed to transmit data. The result is drillers are attaining greater operational depths while saving time and money using the Drill Dog MWD tool.
 
ABOUT E-SPECTRUM TECHNOLOGIES
E-Spectrum Technologies, Inc. is a San Antonio, TX based company that designs, manufactures, and supplies technology-driven solutions to support exploration, drilling, and production in oil, gas, and mining markets.