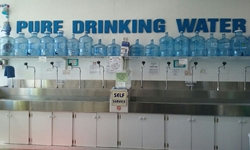 Winnetka, CA (PRWEB) January 09, 2017
Julie Chaves, owner of Drinking Water Depot, is proud to announce she is hosting a donation drive for Operation Warm, whose mission is to provide brand new winter coats to children in need. "Giving a child in need a new winter coat helps improve their self-confidence, peer acceptance, school attendance and overall wellness, as the gift of a new coat empowers children by sparking confidence and self-pride," said Chaves.
Operation Warm works year-round to create brand new, colorful winter coats made just for kids. Drinking Water Depot is collecting donations to directly benefit children in the greater Los Angeles area. "A donation of just $20 will provide a high-quality, brand new winter coat to a child who really needs it," said Chaves.
Since 1998, Operation Warm has inspired hope by manufacturing and distributing high-quality, new winter coats to more than 2 million children in need throughout the U.S. By actually manufacturing the coats it distributes, Operation Warm is able to efficiently control logistics, costs and inventory.
To donate to Operation Warm through Drinking Water Depot, please visit https://give.operationwarm.org/checkout/donation?eid=113071.
About Operation Warm
Operation Warm believes a new winter coat can tell a child, "You're worth it," and help build self-esteem through pride in ownership. They also believe it can inspire happiness and warmth within a child, while also increasing peer acceptance both inside and outside of school. For more information, please call 1-800-730-WARM (9276), or visit http://www.operationwarm.org.
About Drinking Water Depot
Drinking Water Depot is an alkaline, purified, reverse osmosis water provider and Kangen® distributor. For more information, please call (818) 993-9461. The store is located at 20119 Saticoy Street, Winnetka, CA.
About the NALA™
The NALA offers small and medium-sized businesses effective ways to reach customers through new media. As a single-agency source, the NALA helps businesses flourish in their local community. The NALA's mission is to promote a business' relevant and newsworthy events and achievements, both online and through traditional media. For media inquiries, please call 805.650.6121, ext. 361.