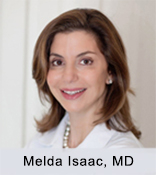 "The main goal, no matter what the treatment, is to find what fits the patient's individual needs, goals, and skin type," said Dr. Isaac.
Washington, D.C. (PRWEB) June 02, 2016
An article in Newswise Magazine recently addressed the ever-changing treatment of acne within the United States. The American Academy of Dermatology states that acne is the most common skin condition in the United States, affecting up to 50 million people every year.
"Acne can be a tricky condition to treat. There are a lot of misconceptions floating around when it comes to how to treat acne and what causes breakouts. There are so many different types of acne and not every treatment works for every patient. This is vital to remember when seeking treatment," explains Dr. Isaac, founder and dermatologist at MI-Skin Dermatology Center in Washington, DC.
For most dermatologists, two or more combinations are now considered the best treatments for the majority of acne patients. For example, when antibiotics are used for the treatment of moderate to severe breakouts, the guideline recommends that topical therapy be used at the same time. Additionally, some female patients may see their acne improve with the use of oral contraceptives, which can be combined with other treatments.
"A lot of people think that there is a one cure-all for breakouts, and it's just not true. Each type of acne requires a different type of treatment, and if that treatment works for one patient's skin, it doesn't necessarily mean that it will work for another," Dr. Isaac said.
Although limited data has shown that in-office procedures like laser treatments or chemical peels may improve acne, the guidelines do not recommend such procedures for routine acne treatment. For more information: http://www.MI-Skin.com/Acne/
"At my practice, I do perform laser treatments on patients with more stubborn and problematic acne. (Not zits). Also, a combination of Dermasweep and chemical peels can help to renew and rejuvenate acne-prone skin. This is a treatment that would need to be performed repeatedly for more troublesome acne, but the goal would be to reach a point to where the breakouts have been managed or cured. For lesser acne, of course, a milder form of treatment would be the best-case scenario, such as the aforementioned creams and antibiotics. The main goal, no matter what the treatment, is to find what fits the patient's individual needs, goals, and skin type," explained Dr. Isaac.
Dr. Melda Isaac is a board-certified dermatologist located in Washington, DC. Her practice, MI-Skin Dermatology Center, is a comprehensive skin care practice, which offers the latest and most advanced state-of-the-art technology to improve the skin's appearance. Dr. Isaac obtained her medical degree from Penn State University, and completed her dermatology residency at George Washington University. She is an active member of the American Academy of Dermatology, the American Society for Dermatologic Surgery, the Women's Dermatologic Society, the American Society for Laser Medicine and Surgery, and the Washington, DC Dermatologic Society.
You can find out more about Dr. Isaac and MI-Skin Dermatology Center at http://MI-Skin.com/Contact.
MI Skin Dermatology Center
2440 M St NW # 703
Washington DC 20037
(202) 817-2249
DrIsaacInquiry(at)gmail(dot)com