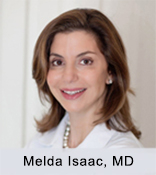 "CoolSculpting is an excellent alternative to surgery that allows you to contour your body so you can achieve your specific physique goals," said Dr. Isaac
Washington, DC (PRWEB) June 27, 2016
In 2014, the FDA approved the new and innovative treatment known as CoolSculpting, a non-invasive body contouring procedure that freezes away the fat on parts of your body where fat cells are more troublesome to eliminate with diet and exercise. CoolSculpting has been commonly used for the thighs, love handles, abdomen, and double chin with great success. Now, according to a June 2016 news report on the Digital Journal, the FDA has recently approved the use of the machine on three new parts of the body: the back, the bra bulge, and under the buttock area.
"This is really exciting news for the world of dermatology," explained Isaac. "CoolSculpting is such a popular procedure, especially in preparation for summer time. Women and men alike want to make sure they have the body they desire during swimsuit season."
See Before and After photos of MI-Skin patients who received CoolSculpting treatments: http://www.MI-Skin.com/Body-Contouring-Before-and-After/
CoolSculpting's most recent addition was the CoolMini to treat double chins. Double chins can be tough to get rid of, even with diet and exercise. Before CoolSculpting there weren't any options for slimming down a double chin that didn't involve surgery or injectables. Now, with these three new additions, the most troublesome areas of the body can be treated effectively.
"Women are constantly seeking out treatments to reduce their bra bulge and back fat. A lot of women are going to be very happy that this treatment was released just in time for bikini season," Isaac explained. "Even with a great diet and exercise plan, there are just some areas of the body that continuously store fat. It can be genetics or body type. Every person is different. So, it's very exciting when a non-surgical procedure is available to treat these areas of concern."
The non-invasive procedure now only lasts only 35 minutes with CoolAdvantage, which uses new applicator tips for the CoolSculpting machine, and patients can receive multiple treatments in each visit. Some practices have more than one CoolSculpting machine, so you can receive DualSculpting and treat two different areas of the body at the same time. There is no downtime and you can continue with your normal routine throughout the day.
Learn more about CoolSculpting: http://www.MI-Skin.com/CoolSculpting/
"CoolSculpting is an excellent alternative to surgery that allows you to contour your body so you can achieve your specific physique goals. It's usually the final step in the transformation process. We help correct what diet and exercise cannot. It's non-surgical and non-invasive so the patient doesn't have to worry about any major side effects," Dr. Isaac added. "The most important thing I can impress upon any prospective patient is that CoolSculpting can require more than one treatment and can start showing results as soon as three weeks but can take up to 3-4 months to show the final effects once the body has had a chance to completely remove the fat cells. So, please be patient. It's not an overnight process but if you combine the procedure with a healthy diet and lifestyle, you should absolutely see the results you want."
Dr. Melda Isaac is a board-certified dermatologist located in Washington, DC. Her practice, MI-Skin Dermatology Center, is a comprehensive skin care practice, which offers the latest and most advanced state-of-the-art technology to improve the skin's appearance. Dr. Isaac obtained her medical degree from Penn State University, and completed her dermatology residency at George Washington University. She is an active member of the American Academy of Dermatology, the American Society for Dermatologic Surgery, the Women's Dermatologic Society, the American Society for Laser Medicine and Surgery, and the Washington, DC Dermatologic Society.
You can find out more about Dr. Isaac and MI-Skin Dermatology Center at http://MI-Skin.com/Contact.
MI Skin Dermatology Center
2440 M St. N.W. #703
Washington, DC 20037
(202) 817-2249
DrIsaacInquiry(at)gmail(dot)com