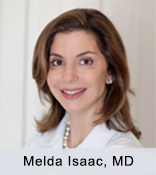 "Regardless of which treatment you're considering, be sure to do your due diligence and choose a board-certified, experienced doctor," said Dr. Melda Isaac
Washington, DC (PRWEB) February 01, 2017
In the past decade, platelet-rich plasma (PRP) treatments have become common in orthopedics, but you may soon enjoy more benefits of this innovative treatment on your skin. According to the National Center for Biotechnology Information (NCBI), PRP treatment is effective in a variety of dermatological applications. But this is not the only dermatology trend expected to be big in 2017.
"I'm excited at what's coming in 2017, including an impressive method of facial rejuvenation," said Dr. Isaac. "PRP injections stimulate your skin's production of collagen, which results in glowing, youthful skin. As popular as I think these injections are, there are other trends I'm also looking forward to."
One trend poised to go viral is facial treatments with unique ingredients, such as charcoal, wine, or even snail secretions. These are modern twists on traditional substances that have long been used around the world for improving skin. If these ingredients don't appeal to you, then you might be relieved to know that several of the country's most well-known cosmetic treatments will continue to rise in popularity, such as Botox®, which is expected to become even more popular among men of all ages.
"As medicine continues evolving, patients looking to fight the effects of aging will try innovative products, as long as they are safe and effective," said Dr. Isaac. "And although these cutting-edge treatments may be very effective, there are still plenty of patients who remain loyal to the traditionally popular ones, such as the neuromodulators like Botox® and dermal fillers like Juvederm® and Restylane®. The ingredients in those and other injectables are always improving to ensure more effective and faster results; plus, new injectable fillers are being developed with their own unique benefits."
Another facial rejuvenation treatment expected to get more attention is NovaThreads®, a nonsurgical facelift that uses dissolvable sutures to lift and tighten the skin. For those more interested in body sculpting, there is good news, as well, as CoolSculpting® looks poised to continue its meteoric rise in the new year. To find out more about body contouring, please visit: http://www.MI-Skin.com/Body-Contouring-Skin-Tightening.
"I always look forward to the new year because of the incoming products that I can use to help my patients achieve their goals – and 2017 is no different. In fact, with some of the new products and innovations on the horizon, it might be more exciting than usual," Dr. Isaac said. "However, regardless of which treatment you're considering, be sure to do your due diligence and choose a board-certified, experienced doctor; that's more important than which product or treatment you choose."
Dr. Melda Isaac is a board-certified dermatologist located in Washington, DC. Her practice, MI Skin Dermatology Center, is a comprehensive skin care practice that offers the latest and most advanced state-of-the-art technology to the skin's appearance. Dr. Isaac obtained her medical degree from Penn State University and completed her dermatology residency at George Washington University. She is an active member of the American Academy of Dermatology, the American Society for Dermatologic Surgery, the Women's Dermatologic Society, the American Society for Laser Medicine and Surgery, and the Washington, DC, Dermatologic Society.
You can find out more about Dr. Isaac and MI Skin Dermatology Center at
http://MI-Skin.com/contact
MI Skin Dermatology Center
2440 M St. NW #703
Washington, DC 20037
(202) 817-2249
DrIsaacInquiry(at)gmail(dot)com