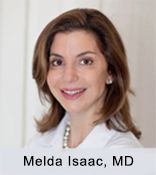 "It's important to remember that wearing sunscreen with the right SPF level is not 100% infallible, it must be applied correctly," said Dr. Isaac
Washington, DC (PRWEB) September 06, 2016
Most people understand the importance of protecting the skin from sun exposure. From increasing the risk of developing melanoma and other forms of cancer to accelerating the aging process, sun protection has become a prime focus of dermatologists and patients. But according to survey results compiled by the American Academy of Dermatology, there is still widespread confusion about how sunscreen works, causing many people to apply sunscreen incorrectly and leaving their skin vulnerable to sunburn and damage.
"Applying sunscreen should be part of a daily skin care routine for everyone," said Dr. Isaac, board certified dermatologist and founder of MI-Skin Dermatology Center in Washington. "But applying it correctly and using the appropriate level of protection is crucial, as well as understanding the limitations of sunscreen and minimizing prolonged exposure to the sun's harmful rays."
The findings of consumer research compiled by the American Academy of Dermatology suggest that even with widespread awareness and availability of a wide range of sunscreen products, many people are still confused about how SPF (sun protection factor) levels work, and how to apply it appropriately.
Guidelines for Using Sunscreen Safely and Effectively

Common misconception - higher SPF numbers do not protect skin for longer than lower SPF products, and higher SPF products do not provide double or triple protection rates
Higher SPFs can block a slightly higher percentage of harmful UV rays
All SPF products should be reapplied after swimming, sweating, and every two hours while outdoors
Complement sunscreen with shade and protective clothing
People with a history of skin cancer may require additional protection
Always use a broad spectrum sunscreen with an SPF of 30 or higher
"It's important to remember that wearing sunscreen with the right SPF level is not 100% infallible, it must be applied correctly and in addition to other protective practices like wearing hats, sunglasses, protective clothing, and alternating sun exposure with shade. At MI-Skin Dermatology Center, we advise patients to know their individual risk factors for skin cancer, and to make prevention and comprehensive screenings part of their skin care and general health and wellness routines to avoid premature aging and cancer," added Dr. Isaac.
Dr Isaac strongly believes that physical ingredients in sunscreens (titanium dioxide and zinc oxide) are more stable than chemical based sunscreens. Dr Isaac feels zinc oxide and titanium dioxide don't degrade as quickly as chemical based formulations. All sunscreens however need to be reapplied for optimal efficacy.
Dr. Melda Isaac is a board-certified dermatologist located in Washington, DC. Her practice, MI-Skin Dermatology Center, is a comprehensive skin care practice, which offers the latest and most advanced state-of-the-art technology to improve the skin's appearance. Dr. Isaac obtained her medical degree from Penn State University and completed her dermatology residency at George Washington University. She is an active member of the American Academy of Dermatology, the American Society for Dermatologic Surgery, the Women's Dermatologic Society, the American Society for Laser Medicine and Surgery, and the Washington, DC Dermatologic Society.
You can find out more about Dr. Isaac and MI-Skin Dermatology Center at http://MI-Skin.com/Contact.
MI Skin Dermatology Center
2440 M St. N.W. #703
Washington, DC 20037
(202) 817-2249
DrIsaacInquiry(at)gmail(dot)com