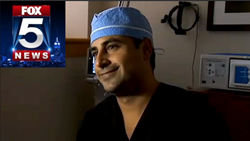 Dr. Ben Talei and Nathan Talei Esq. drive across the country in their Mini Cooper to help victims of domestic violence
Beverly Hills, CA (PRWEB) September 22, 2014
The Drive Against Domestic Violence (http://BeverlyHillsCenter.com) is a cross-country marathon drive organized by Ben Talei, MD - a Beverly Hills Facial Plastic Surgeon and Nathan Talei, Esq.
The two brothers have planned to drive across the country during Domestic Violence Awareness Month this October in order to raise funds and awareness for the National Coalition Against Domestic Violence (NCADV - http://ncadv.org/) and the American Academy of Facial Plastic & Reconstructive Surgery's Face to Face Domestic Violence Program (http://www.aafprs.org/patient/humanitarian/pa_humprog.html). They will be driving in a Mini Cooper wrapped in logos for the charity to help draw attention to the marathon fundraising. The drive will proceed from New York City to Miami to Los Angeles with many organized stops and events along the way.
FOX 5 New York News Correspondent Arthur Chi'en visited Dr. Talei's office at the Beverly Hills Center for Plastic and Laser Surgery this past week in order to learn more about the interesting methods used for this unique fundraiser ( http://www.myfoxny.com/clip/10585983/botox-for-a-cause#)
Although raising funds is a large part of the campaign, Dr. Talei believes that raising awareness for these two incredible organizations is even more important. This entire month, Dr. Talei has donated Botox for charity, as he offered patients complementary Botox treatments in exchange for a donation to the cause. This in turn has created a greater recognition for the foundation. He has even offered free cosmetic and reconstructive procedures to battered women in order to help lift their spirits. Dr. Talei is a Facial Cosmetic and Reconstructive Surgeon who has become quite passionate about the cause as a result of treating domestic abuse victims over the years.
One of the first events will be on September 24th at the Ultra-chic "Beautique Restaurant" in Manhattan. There promises to be plenty of socializing, fundraising, and even a raffle for Juvederm and Botox treatments. The Drive will then start on September 29th with the first stop organized at the famous Hill Country Barbeque in the heart of Washington DC. There will be dozens of other stops and events before arriving in Los Angeles where the arrival party will be hosted by the W Hotel in Hollywood as they show their support for the cause.
To donate or view events, supporters can visit http://BeverlyHillsCenter.com and click on the foundation's Mini Cooper. There you will find a map of the brothers' drive and a link for donations. This is an ongoing effort so more events will assuredly pop up along the way, with a few involving exotic car clubs as well showing their support.
Although Domestic Violence has received a significant amount of attention recently in the media and in the NFL, this is not a novel problem. Domestic violence is a devastating issue that is all too prevalent in this country and around the world. Everyone has been affected by it in one way or another. The actions of Ray Rice, Adrian Peterson, Jonathan Dwyer, Greg Hardy, Ray McDonald, and even Floyd Mayweather have for too long been overlooked. Furthermore, the response of Ray Rice's wife, Janay Palmer, defending her husband's actions (Twitter hashtag #WhyIStayed) is all too common. Dr. Talei hopes to increase conscious awareness of this problem and promote the reversal of the reflexes and responses leading to domestic violence in order to eradicate this problem in households around the country. Moreover the charity hopes to show domestic abuse victims that organizations such as these exist and all they need to do is reach out. They are not alone in this and something can always be done to improve their situation.