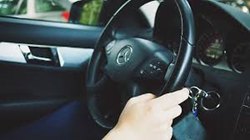 We are really excited about this scholarship competition as part of our mission for top quality drivers education in Georgia.
Atlanta, GA (PRWEB) September 21, 2015
GA Driver Safety, a top-rated provider of Joshua's Law Compliant Georgia drivers education online at http://www.gadriversafety.org/, is proud to announce a 'tip sheet' for High School Seniors and college students interested in applying for the company's innovative scholarship and essay contest. The purpose of the scholarship is to get teen drivers thinking about safe driving habits and about how to communicate with their peers in an effective way.
"We're already off to a great start with our scholarship and essay contest," explained Azhar Mirza, managing director of GA Driver Safety. "In the interest of a level playing field, we wrote this quick 'tip sheet' so that applicants can see what we are seeking and be reminded that we want innovative, humorous but authentic and effective content on safe driving by young drivers."
To read the tip sheet, please visit http://www.gadriversafety.org/?p=610. To learn more and to access the application, please visit http://www.gadriversafety.org/essay-contest/. The essay contest is now processing applications, and the scholarship will be announced and awarded on May 1, 2016. Participants must be high school or college students, but need not reside in Georgia.
The Importance of Authenticity to Teen Driving and Communications
The reality of today's young audience is that much of the communication coming at them is non-authentic. Often it is created by government or other bureaucracies which, though having the best of intentions, do not speak in a language and way that teens respect and relate to. Nowhere is this more problematic than in the issue of safe driving. Not driving while texting or talking on the phone, wearing seatbelts, driving the speed limit and other safe practices can seem boring and 'square' to teen drivers. The purpose of the scholarship and essay contest is to get teens to brainstorm effective ways to get teens to talk about safe driving. By creating both the application form and the new 'tip sheet,' the company hopes to catalyze a new way to encourage teens to be safe drivers.
About GA Driver Safety
GA Driver Safety is a leading provider of online drivers education for Georgia residents, especially teen drivers seeking learner's permits that comply with Georgia law. The informational website educates teen drivers on issues such as Joshua's Law compliant drivers education courses, how to obtain a learner's permit, and even defensive driving. Anyone interested in obtaining a Georgia driver's license will benefit from the online materials available from the company.