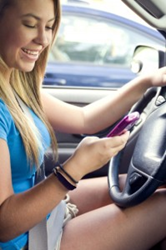 Twitter is often thought of as a crazy, fun place to share ideas about pop culture.
Atlanta, GA (PRWEB) August 31, 2015
GA Driver Safety, a top-rated provider of Joshua's Law Compliant Georgia drivers education online at http://www.gadriversafety.org/, is proud to announce successful upgrades to its Twitter presence online. Twitter, of course, is popular among Georgia teens as a place to keep up-to-date with their friends, family, and popular culture in general. By upgrading its Twitter page, the company has extended its reach to teens before, during, and after the decision to pursue a Georgia drivers license.
"Twitter is often thought of as a crazy, fun place to share ideas about pop culture," explained Azhar Mirza, managing director of GA Driver Safety. "It is that, of course. However, to reach today's Georgia teens, Twitter is a great opportunity to appeal to them before, during, and after a decision to try to obtain a Georgia drivers permit. Thus, our upgrades to Twitter in July and August were accomplished."
To view the newly upgraded Twitter page, please visit https://twitter.com/GaDriverSafety. August upgrades to the page include: a) improved cover photo and profile picture, as well as improved photos in general, b) a systematic posting strategy of informative articles and blog posts from around the Web of interest to teen drivers in Georgia now topping more than fifteen tweets, and c) the use of trackable links via the ow.ly service, thereby enabling metrics.
Georgia Drivers Education: Online and Offline Educational Topics
Before a Georgia teen can obtain a drivers license, he or she must satisfy a written drivers test requirement. The online learning environment is ideal to help today's busy teen comply with this requirement. Previously, this meant a robust website. That said, not all teens plan ahead. Many wait until the last minute to think about getting their Georgia drivers permit, and do not know how to identify a reputable company. By reaching out via Twitter, Georgia Driver Safety is there before, during, and after a teen considers getting a Joshua's Law Compliant Georgia drivers test.
About GA Driver Safety
GA Driver Safety is a leading provider of online drivers education for Georgia residents, especially teen drivers seeking learner's permits that comply with Georgia law. The informational website educates teen drivers on issues such as Joshua's Law compliant drivers education courses, how to obtain a learner's permit, and even defensive driving. Anyone interested in obtaining a Georgia driver's license will benefit from the online materials available from the company.