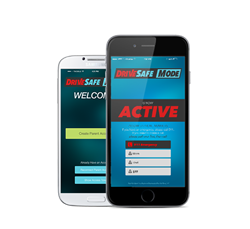 I believe these latest statistics create a tipping point, where everyone looks at this now as a common sense issue.
Las Vegas, NV (PRWEB) August 25, 2015
America's families are looking for answers to lessen the soaring numbers of traffic fatalities – particularly those involving teen drivers – on the nation's roads and highways. The monitoring app DriveSafe Mode promises to be one solution that could actually prevent accidents and deaths due to distracted driving.
The statistics from the Centers for Disease Control are grim: "Each day in the United States, more than 9 people are killed and more than 1,153 people are injured in crashes that are reported to involve a distracted driver." More troubling are the latest figures from the 2015 National Safety Council, which point to a sharp increase in annual fatalities to date and a pace that would make 2015 the deadliest driving year since 2007 and yet the National Safety Council said, "There is strong evidence to support that under-reporting of driver cell phone use in crashes is resulting in a substantial under-estimation of the magnitude of this public safety. "
In a nutshell, DriveSafe Mode is an app that allows parents to monitor and control their kids' mobile devices, to ensure they are not using them while driving. The technology currently supports a range of impressive safety features, including the ability to notify parents if their teen is texting, Facebooking, Tweeting, Snapchatting or using any other app while in motion, block phone use based on speed above 5mph, notify of any attempts to disable DriveSafe Mode, and allow 911 or calls to preset numbers in any circumstance.
The evidence that teen and young adult drivers are more prone to causing distracted driving accidents is more than anecdotal:

10 percent of drivers under the age of 20 involved in fatal crashes were reported as distracted at the time of the crash, the largest proportion of any age group
Drivers in their 20s make up 27 percent of the distracted drivers in fatal crashes
1 in 4 teens respond to a text message once or more every time they drive
"DriveSafe Mode is so necessary," said Greg Ekborg, the Director of Marketing for DriveSafe Mode. "I believe these latest statistics create a tipping point, where everyone looks at this now as a common sense issue – distracted driving is a killer of epidemic proportions, and DriveSafe Mode offers a solution that undoubtedly will save lives."
DriveSafe Mode is compatible with both Android and iOS devices. Getting started is simple and takes only minutes: users create an account, download the app, and sync devices to the account. "Mobile devices are a large part of distractions for young, inexperienced drivers," added Mr. Ekborg. "DriveSafe Mode confronts head on the risks of distracted driving due to mobile devices, and it provides parents with an easy-to-use, effective tool that could save their child's life, and save the lives of others."
About DriveSafe Mode
DriveSafe Mode is a patented application that allows users to monitor or control the devices most often linked to distracted driving, including Android and iOS smartphones and tablets. The company is not only committed to increasing public awareness of the problem of distracted driving, but dedicated to providing a full suite of tools able to reduce incidences of distracted driving and save lives.
http://drivesafemode.com/