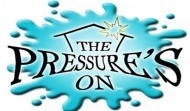 Boca Raton, FL (PRWEB) October 14, 2013
The Pressure's On of South Florida has announced that free driveway cleaning estimates for homeowners and commercial properties in Boca Raton and South Florida are now available.
Taking preventative maintenance seriously for Boca Raton homeowners isn't thought about a lot until, sometimes, it's too late. Dirt and oil get into a surface over a long period of time. Then it becomes quite costly to remove all of it from a beautiful driveway.
A wonderful first impression goes a long way toward making a home look that much more beautiful. Driveway cleaning is a simple, affordable way to improve the look of your property.
From cleanliness purposes to simply wanting your home looking fresh and new, there are many benefits from hiring The Pressure's On to get the job done. A good power washing goes a long way, especially when dealing with the Florida sun.
Dirt and mold have a way of attaching onto buildings and flat surfaces. What The Pressure's On can do is deliver a healthy, professional job in Boca Raton that takes all the muck and junk out of those areas and bring out the natural beauty in and around commercial properties.
Boca Raton is a 'principal city' (as defined by the Census Bureau) of the Miami metropolitan area. Like most South Florida cities, Boca Raton has a water table that does not permit building basements, but there are several high points in the city, such as 4th Avenue which is aptly named "High Street". The highest point in this area is the guard shack at Camino Gardens, which is 24 feet above sea level. Several small tunnels run under roads in Boca Raton, but the roads are built up several feet at these locations, or are located on dunes.
The Pressure's On of South Florida offers professional pressure cleaning services in the Boca Raton and South Florida area for residential and commercial properties. These services include window cleaning, driveways, pools, sidewalks, roofs, commercial, and more. We are licensed, insured ($1,000,000 liability), and a drug-free workplace.
For more information, visit their website at http://pressurecleaningbocaraton.net/ or call 561-985-5057.