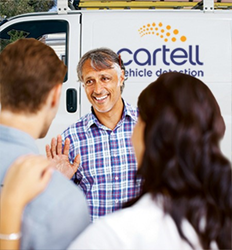 I have no complaints from any of my customers when I install one of your sensors on their gate
Salunga, PA (PRWEB) June 16, 2014
Cartell makes a system that allows a hands-free exit from any property that has an automatic gate operator. The CP-3 (called GateMate) works with any gate operator and allows vehicles to exit a property without the use of a remote, keypad or key fob. Recently, this product received an unsolicited review from a reseller.
Derek, an installer/manufacturer from San Antonio, Texas, grew up in the company created by his father. His father has used our product for years, and it was his son that sent the following testimonial to us:
"I just want to say that your products are the only thing I ever consider using when I have an application that requires exit sensors or vehicle detection. I have no complaints from any of my customers when I install one of your sensors on their gate. I'm also proud to say that installations my father did back in the late 80's and early 90's are all still working beautifully, and we rarely have any issues with the units that had boards back then as well."
With a little bit of grit, Derek goes on to comment, "I get a personal satisfaction when I rip your competitors' models out of the ground when the probe or detector fails. I replace them with a CP-3 (GateMate) in most situations. The CP-3 (GateMate) has consistently allowed me to be able to walk away from an installation with no fear of having to be called back for failure. Your entire team and family is a pleasure to work with and get information from when I need assistance or place an order."
Jonathan Bohannon, President/CE0 of Preferred Technologies Group, maker of Cartell, replies, "It is indeed satisfying to know that we are doing things right. We place an extraordinary emphasis on quality and customer service and comments like Derek's remind us that we are on the right track. It is rewarding to be appreciated."
Cartell, founded in 1975, is a division of Preferred Technologies Group, located in Lancaster County, Pennsylvania. Starting with its groundbreaking use of magnetometer technology for vehicle detection, Cartell has led the industry with innovation, functionality, quality and value. The dependability of Cartell's products far exceeds the industry standard and is backed by a five-year warranty. Every Cartell product is quality-made in the U.S.A. and sold by a national network of fine distributors.
For more testimonials, visit http://www.cartell.com/about-cartell/testimonials
Media Contact
Jonathan Bohannon, President/CEO
717-917-4468
j.bohannon@cartell.com
http://www.cartell.com