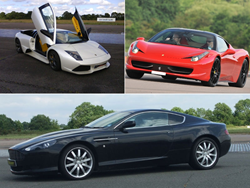 The Rockingham Race Circuit offers something for everyone. Guest drivers can choose from Junior Driving Experiences all the way up to a Ferrari 458 Italia. All this is sure to make a Rockingham Driving Experience and thrill to remember."
(PRWEB UK) 22 October 2014
New Rockingham Trackdays have been added to the TrackDays.co.uk website. Rockingham Driving Experiences feature a wide selection of high performance supercars to choose from.
Rockingham is located in Corby, Northamptonshire and is closely situated to the M1 and A14 for easy access. It has a long racing heritage that extends decades and is one of the most renowned circuits in the UK. Trackdays have been lucky enough to secure driving experience at this prestigious venue.
The new high grip surface has excellent run off and is therefore ideal for novice drivers. Guests will find on site toilet blocks & shelter in the paddock as well as an admin and a lounge in the race control building.
In addition TrackDays.co.uk also offers "Own Vehicle Track Days" at Rockingham as well as driving experiences in supercars such as Ferrari, Lamborghini and Aston Martin. Guests can drive a single car or make some great saving by booking online double, treble or multi car gift vouchers.
Driving Experience visitor drivers will experience:
Welcome upon arrival & sign In.
Demonstration lap driven by the instructor
Four laps driving their chosen Supercar or supercars!
A high speed passenger ride driven by the instructor
Supercars to choose from at Rockingham include:
The Ariel Atom houses 300 horsepower with a manual gearbox and a lightweight body.
The Aston Martin Vantage creates 420 horsepower with a manual gearbox that puts the power to the ground.
The Audi R8 produces 414 horsepower and features a paddle shift gearbox.
The Ferrari 360 features 400 horsepower and a paddle shift gearbox.
The Lamborghini Gallardo muscles out 493 horsepower with a paddle shift gearbox.
The Porsche 911 Turbo offers 480 horsepower with an automatic gearbox.
Dan Jones the Operations Manager for TrackDays.co.uk said "The Rockingham Race Circuit offers something for everyone. Guest drivers can choose from Junior Driving Experiences all the way up to a Ferrari 458 Italia. All this is sure to make a Rockingham Driving Experience and thrill to remember."
Visit TrackDays.co.uk to find more Rockingham Driving Experiences and Track Days.