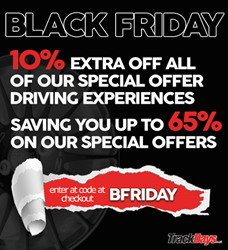 United Kingdom (PRWEB UK) 27 November 2014
Trackdays.co.uk have added Black Friday to their site with discounts of up to 65%. They have released a discount code on all their experiences BFRIDAY.
As the Black Friday makes its way over the pond from America, its a great way to get great deals before Christmas and save a huge amount of money for gifts to treat the ones that matter. It's become synonymous with fantastic deals in this country now and its popularity has been growing, Trackdays has entered into the good will spirit and provided this special offer code that can be used on any existing offer.
This code can be used for example on the Learn to Drift Experience which is already 55% off, making it a fantastic price of £80. normal price is £199.
All of Trackdays offers can be found on their website http://www.trackdays.co.uk