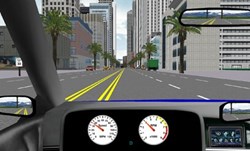 Its [Stisim Drive] driving simulators...provides cost-effective and reliable data that could be used for research, instruction, training and even rehabilitation.
New York, NY (PRWEB) December 11, 2013
A study using driving simulation recently discovered that driving with a hangover is just as dangerous as driving drunk. And so, wanting to help the public avoid road accidents, Stisim Drive advised drivers to reconsider driving after a night of drinking. Moreover, it shared another tip how they could stay safe.
According to a report from cbslocal.com posted on December 10, 2013, the study was done by researchers from UK and Netherlands, Stisim Drive shared. And as it stated, the results of it revealed that hung-over could significantly increase the speed, reaction times, errors and deviation from driving position of drivers, thus, increasing the possibility of road accidents.
In the same report, it was said that another research from Utrecht University complemented the results of the first study. With tests done on drivers after their alcohol level returned to zero, it discovered that hangover elevates attention lapses and weaving.
The discovery of both studies, Stisim Drive related based on the report, were presented at the Australasian Professional Society on Alcohol and other Drugs 2013 Conference.
Here is an excerpt from the said report.
"According to a recent study, a hangover following a night of heavy drinking can impair one's driving performance just as bad as driving under the influence.
Researchers from universities in the U.K. and the Netherlands found that the effects of a night out drinking last longer than the measurable blood alcohol concentration."
Driving simulation company, Stisim Drive said that road accidents are preventable. As it cited and as the report suggested, avoiding driving while drunk or with a hangover is one way to do it.
But besides alcohol, there are many other things that could cause vehicular accidents. And so, to avoid them whatever it is that could cause them, Stisim Drive recommended driving training with driving simulator systems.
With them, it said that anyone could practice driving with various real-life road scenes in a safe environment. Nonetheless, of the many simulation machines these days, Stisim Drive asserted that its own are the best.
It stated that its driving simulation software is full of possible road scenarios that old and new drivers could practice on to hone their on-the-road skills. Its driving simulators, it added, provides cost-effective and reliable data that could be used for research, instruction, training and even rehabilitation.
To learn more about Stisim Drive's driving simulation software and systems, readers could go to its website at stisimdrive.com.