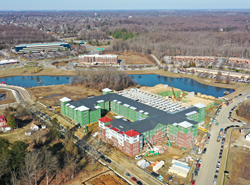 With each passing day, we witness a remarkable surge as our state's entrepreneurs and businesses of all sizes adapt, innovate, and excel. Together, we propel Maryland's businesses and organizations to new heights, solidifying our state as a beacon of innovation and economic vitality.
BALTIMORE, Md. (PRWEB) May 22, 2023
The Maryland Marketing Partnership, which helps drive Maryland's branding and marketing efforts to attract businesses, create jobs, and grow the state's economy, today shared a summary of the latest news from companies and organizations that are part of the partnership.
"The resilience and determination of Maryland's businesses have ignited an extraordinary journey of growth. With each passing day, we witness a remarkable surge as our state's entrepreneurs and businesses of all sizes adapt, innovate, and excel," said Tom Riford, executive director of the Maryland Marketing Partnership. "Together, we propel Maryland's businesses and organizations to new heights, solidifying our state as a beacon of innovation and economic vitality."
Bozzuto, based in Greenbelt, is celebrating 35 years in business. While the company has grown from a regional company with just a few associates to a national company with more than 3,000 employees, one thing remains constant: providing the highest level of service and cultivating an extraordinary culture. As part of the 35th Anniversary, President and CEO Toby Bozzuto unveiled a special commemorative piece of artwork by Baltimore artists Jessie and Katey, who created the vibrant mural at Aster College Park, a community developed, constructed and managed by Bozzuto.
Cloudforce, based in National Harbor, hosted 16 participants at its in-person Cloud 101 Boot Camp to help prep budding local talent to pass their first cloud certification. Cloudforce promoted nine team members, including seven women, in technical and management roles. Cloudforce showed up big at the Annual Maryland Education Enterprise Consortium (MEEC) conference, with VP Delivery Jesse Kellner delivering the keynote, CEO Husein Sharaf leading a Disaster Recovery break-out session, and staff co-manning a vibrant booth presence alongside partner Microsoft. Cloudforce continues its record award winnings, as back-to-back Inc. Magazine Best Workplace, and Prince George's only 2023 Washington Business Journal Best Place to Work. Cloudforce CEO Husein Sharaf talked company growth in a Maryland Department of Commerce video.
Fulton Bank, one of the leading financial institutions serving consumer and business customers, has launched a Diverse Business Banking program designed to meet the unique needs of minority, women, veteran and LGBTQ business owners. The cornerstone of the program is Fulton Bank's Diverse Business Advocates, bankers who have earned a special certification and can provide one-on-one mentorship, educational resources and custom solutions to meet the needs of diverse business owners. Products and services include flexible approval criteria for loans and lines of credit, business banking product bundles, Small Business Administration products, merchant services and payroll and cash management services.
Kaiser Permanente, based in Rockville, announced Kaiser Foundation Hospitals and Geisinger Health recently announced the launching of Risant Health, a nonprofit organization that aims to improve access to high-quality, equitable and affordable healthcare and coverage. The organization will acquire community-based health systems committed to value-based care and provide them with the best practices, tools and technology needed to achieve their missions. With the first health system, Geisinger Health, already on board, Risant Health is leading the development of a new value-based care platform to serve the healthcare needs of more people, families and communities across the country.
Route One Apparel, based in Towson, is launching three new collaborations this summer to expand its reach and bring both trendy and affordable apparel and accessories to its customers. The company has partnered with Preservation Maryland in honor of National Preservation Month on the "Keep Maryland Iconic" collection to celebrate the state's rich history and support the nonprofit's efforts to maintain it. The second partnership is with Nashville-based apparel company Whiskey No Rocks on the Whiskey No Rocks x Route One Apparel collection. Finally, the company's Maryland State Fair merchandise line will celebrate Maryland pride while capturing the spirit of the fair, now in its 145th year this August.
Peterson Companies, a longtime Maryland business, welcomes two iconic restaurants to National Harbor. The first is Fogo de Chão the leading Brazilian steakhouse specializing in fire-roasting high-quality meats since 1979. The second, Tom's Watch Bar, brings the ultimate sports-watching experience to National Harbor, featuring two suites powered by Topgolf with state-of-the-art simulator bays that hold a variety of virtual games. Additionally, rio, Gaithersburg's most celebrated shopping and dining destination in the heart of Montgomery County, will welcome Charley Prime Foods, a steak-centered American bistro featuring lakefront dining slated to open this month.
St. John Properties, Inc., based in Baltimore and one of the nation's largest and most successful privately held commercial real estate firms, announced its intentions to speculatively develop 26 buildings, totaling more than 1 million square feet of commercial space in 2023. A 67-acre business community developed and managed by the firm in Anne Arundel County will soon be turned into a 10-court pickleball facility within I-97 Business Park thanks to entrepreneur Timothy Schnupp and investors Jimmy Hall and Sonny Tannan, both accomplished pickleball players. Finally, the firm has entered the Florida market with a new regional office in Tampa, continuing its national expansion into high-growth markets.
SECU, Maryland's largest state-chartered credit union, will open its newest Baltimore financial center at 250 Pratt Street on May 24, 2023. This location was thoughtfully chosen so SECU can continue to serve, support and build lasting relationships with the Central Business District community. The company hopes to make a positive contribution to the financial well-being of Marylanders by extending access to highly trafficked downtown. This state-of-the-art location features the latest innovative banking technology, two full-service ATMs, two interactive teller machines and a self-service station.
T. Rowe Price, a Baltimore-based global investment management firm, released its 2022 Community Snapshot, reinforcing the company's commitment to community and demonstrating how corporate social responsibility and philanthropy are integral to the firm's culture. Company associates have a long legacy of charitable involvement, and this year's report demonstrates T. Rowe Price associates' commitment to global serving. Highlights include $24.4 million total given to communities, including direct grants, matching gifts, associate donations, sponsorships, and community and business memberships; $500,000 donated to the United Nations Foundation's Ukraine Humanitarian Fund; and 28,700 hours volunteered by associates globally.
TEDCO, based in Columbia, and Maryland's economic engine for technology companies, continues to invest in Maryland technology startups like Marinalife, Novel Microdevices, Rise Therapeutics, aBreak Music, CyDeploy, and The Equity Brain Trust; meanwhile, the Maryland Stem Cell Research Fund announced the second round of 2023 investments. TEDCO's Maryland Innovation Initiative recently held a successful event at the University of Maryland, College Park to celebrate the 2023 Innovate Maryland's Invention of the Year awards. Additionally, TEDCO's hopes to expand and create more Makerspaces through the launch of the Maryland Makerspace Initiative Program. The latest TEDCO Talks episodes dive into diversity, equity, and inclusion efforts while discussing the importance of these efforts on the greater Maryland innovation ecosystem.
United Therapeutics Corporation (UT), co-headquartered in Silver Spring, is now the first publicly-traded biotech or pharmaceutical company to take the form of a public benefit corporation. The company aims to provide brighter futures for patients through the development of novel pharmaceutical therapies as well as technologies that expand the availability of transplantable organs. One of UT's subsidiaries, Lung Bioengineering (LBE), performs ex-vivo lung perfusion (EVLP) that can expand the supply of transplantable lungs by evaluating explanted lungs that are unsuitable for transplant and finding ways to get them to patients. In April, LBE completed its 500th EVLP procedure, enabling the 300th transplant of a lung that may not otherwise have been used.
About Maryland Marketing Partnership
The Maryland Marketing Partnership, founded in statute as the Maryland Public-Private Partnership Marketing Corporation, develops branding strategy for the state, markets