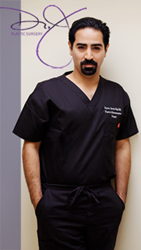 [Ms. Abraham's bothched procedure is] another clear reminder of the need to pay close attention to a doctor's reputation and credentials before consenting to a procedure.
Los Angele, CA (PRWEB) July 15, 2015
A July 13 People Magazine interview with 24 year-old reality television star Farrah Abraham explores a lip augmentation procedure gone wrong and the additional work that was required to correct the problem. The "Teen Mom" star, who now says she plans to become a plastic surgeon herself, turned to the doctors of another reality program, E's "Botched," to correct the problem, but not before a great deal of distress and a brief hospital stay. "I could feel everything, and it was hurting in a crazy way, and my lip was blowing up as I was sitting there," she told People. While no information is available about the doctor who performed the failed operation, Beverly Hills plastic surgeon Payam Jarrah-Nejad, M.D., F.I.C.S., F.A.C.S. notes that it's another clear reminder of the need to pay close attention to a doctor's reputation and credentials before consenting to a procedure.
Whether a procedure is intended to improve the appearance of the lips or another facial feature or is a Brazilian style butt lift in Beverly Hills, the surgeon, known more familiarly to his patients and coworkers as Dr. J, strongly cautions that keeping a close tab on a doctor's qualifications is an absolute must. Altering the appearance of the human face and body, he notes, involves an in-depth medical knowledge, the complete mastery of a number of complex surgical tasks, and a finely honed aesthetic sense.
At a minimum, Dr. J says that patients should demand a physician is a board certified plastic surgeon before even considering having worked performed. He also notes that it's important to research the doctor to ensure he or she has experience with the procedure in question and can produce evidence of positive results. He also says that, while he understands that money is always a concern, using cut-rate practitioners is, at best, a false economy. The risk to a patient's life and health aside, the cost of correcting failed procedures can often dwarf the expense of a well-performed initial procedure.
About Dr. J
Double board certified by both the American Board of Plastic Surgery and the American Board of Surgery and featured on such television programs as MTV's "True Life" and Bravo's "The Shahs of Sunset," Dr. J has performed procedures on numerous female and male patients of all ages. These range from facial rejuvenation and breast augmentation, to pro bono procedures performed on disfigured infants and children in developing nations. The results of his work can routinely be seen on his popular plastic surgery Instagram page.
To find out more about obtaining the doctor's qualifications or to inquire regarding a free initial consultation with Dr. J, members of the public can call 310-993-3800 or visit the doctor's website at http://www.DrJPlasticSurgery.com.