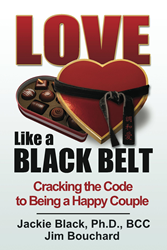 Deepening romance in your relationship requires intention, commitment and planning, and is the responsibility of each partner. ~ Dr. Jackie Black
Los Angeles, CA (PRWEB) October 15, 2015
Couples in Trouble can get out of trouble fast by focusing on a new way of thinking and communicating as described in the "LOVE Like a BLACK BELT: Cracking the Code to Being a Happy Couple" book. Co-authored by Dr. Jackie Black and Jim Bouchard, "LOVE Like a BLACK BELT" is the ultimate guide for committed couples to build a strong, respectful and lasting love-relationship based on learning, practicing and mastering the essential relationship success skills; while staying true to the core characteristics of the Black Belt Mindset.
"Just because there are competing priorities and tremendous external pressures on contemporary, committed partners, doesn't mean that their marriages have to feel the impact. It means it's time for couples to find new answers and acquire new skills to get their marriages back to being loving and strong," says Dr. Jackie.
Staying happy and loving in a relationship for years and years can be challenging. Men and women get sucked into the logistical ruts they know as their lives as husbands, wives and life partners; and one day it hits you, you are a Couple in Trouble.
That's why during the month of October, Couples in Trouble Relationship Expert, Dr. Jackie Black, is offering a giveaway where five random participants will each receive a copy of her book "LOVE Like a BLACK BELT: Cracking the Code to Being a Happy Couple." Entries are being accepted now. The giveaway will end on October 20, 2015, at 12:00AM ET. Winners will be announced and notified on October 22, 2015.
"Focusing on the essential relationship success skills combined with a Black Belt mindset presents a much better path to happiness and a far less costly approach than the 'conscious uncoupling' making headlines by celebrities," Dr. Jackie says. "Let's face it, the path to 'happily-ever-after' is paved with challenges and unknowns, not to mention competing needs and priorities couples never imagined they'd have."
To head off this potential collision and to transform from the day-to-day rut couples slide into before they know it, and to rediscover the spark of appreciation that brought partners together at the start, Dr. Jackie offers a complimentary chapter 1 download of "LOVE Like a BLACK BELT: Cracking the Code to Being a Happy Couple;" and these practical strategies and timeless relationship tips for a healthy marriage:
#1: Create Intimacy with Deliberate Choices and Actions
"Deliberate choices and actions must send the unmistakable message that partners are happy to be with each other and that their life is better and richer together than it could ever be alone," Dr. Jackie says. "Intimacy is the result of celebrating each other's presence and celebrating being in each other's presence. Always remember to be encouraging and intentional."
#2: Make Time to Connect
Dr. Jackie suggests that partners think back to when they first started dating and give strong consideration to what they enjoyed about being together; and what activities they both enjoyed doing that they no longer make time to do. She invites couples to speak with each other honestly and get clear about why their love bloomed in the first place. "Both partners must carve out quality, alone-time together every week, take responsibility for it, and ensure nothing gets in the way of planned time together," Dr. Jackie maintains.
#3 Create Romance and Time for Sex
Deepening romance in a relationship requires intention, commitment and planning. Both partners are equally responsible. "Romantic and sexual energy is created moment by moment, hours and days before you actually feel romantic or are interested or welcoming of receiving your partner sexually. Those f-e-e-l-i-n-g-s are the result of consistently receiving loving, kind, caring, thoughtful behaviors over time. Each partner must intentionally string those behaviors together like a strand of exquisite pearls. The giving partner intentionally gives and the receiving partner intentionally receives in ways that they both know they have been received and appreciated," Dr. Jackie explains.
About Couples in Trouble Marriage Educator and Coach Dr. Jackie Black
Jackie Black, Ph.D, BCC is an internationally recognized marriage educator and relationship coach who serves couples in trouble who are serious about doing what it takes to stay together through her marriage coaching programs. Named by Cosmopolitan magazine as one of their most beloved international love gurus, Dr. Jackie guides couples out of trouble to reignite the spark in their marriages step by step and day by day. Hundreds of happy clients around the world turn to Dr. Jackie's programs to save and improve their relationships. Dr. Jackie is a frequent guest expert on radio programs throughout the U.S. and Canada and on Internet radio and is regularly cited in major magazines in the U.S. and abroad. To interview Dr. Jackie Black, engage her to speak, and/or to access her gift eGuide offering 3 Fast + Fun Ways to Reignite the Spark in Your Marriage TODAY, visit http://www.drjackieblack.com.