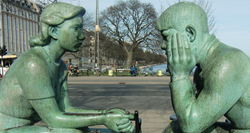 Don't avoid saying what is in your heart or on your mind to say. - Dr. Jackie Black
Los Angeles, CA (PRWEB) November 17, 2015
"Let's make November all about having better conversations by clearly and effectively communicating. Most people know how to speak, but many have never learned how to communicate. Recognize that clear, accurate and understandable verbal and non-verbal language is essential for marriage, committed relationships, friendships, business relationships and virtually all other kinds of relationships," says Dr. Jackie. People depend on making themselves understood to convey their wants and needs, likes and dislikes, thoughts and feelings, and to make requests of others.
People communicate non-verbally with their faces and their bodies. For example, when they are listening, they might tilt their heads a bit or lean forward toward the speaker. The speaker would likely perceive them to be interested, and listening attentively.
Conversely, if listeners fidget, sigh, roll their eyes, make any of a number of faces with their mouths and lips, they could be accurately perceived by the speaker to be in disagreement, contemptuous, critical, and disapproving.
During a conversation, people communicate verbally with the words they choose, with inflection, pitch, decibel level, and cadence. And make no mistake; a speaker's attitude comes across loud and clear when she or he speaks.
Communication is one of the essential parts of creating rich, meaningful relationships. Conversing verbally and non-verbally in a kind, responsible and respectful way furthers understanding, feeling valued, respected and cared for and increases intimacy and trust.
That's why Couples in Trouble Relationship Expert Dr. Jackie Black offers these seven timeless relationship tips to effective communication:
1. Say what you mean and mean what you say.
2. Do what you say and say what you do.
3. Thoughts and feelings, needs and wants, likes and dislikes are valid and legitimate. It is each individual's job to own their internal experience. That means identify what is going on inside oneself, learn to language it and find the courage to express it. Ownership implies that a person knows and believes that they are okay with who they are, and how they experience and react to their inside and outside worlds. Other people do not have to understand or agree in order for someone's experiences to be valid, legitimate and respected. This is about each individual!
4. Similarly, others express their thoughts and feelings, needs and wants, likes and dislikes and their internal experiences are valid and legitimate. A person may or may not understand. Whether they do or not, it is essential to respect the experience(s) of others. Agree to disagree. Accept without agreeing. This is about the other person!
5. When a need is unmet it becomes an issue. People have many opportunities to experience and express issues in their relationships. Common ways to respond, although unproductive and harmful, are to complain, blame and criticize. A far better approach to dealing with an issue is to make a request. Identify what the need or want is, or what the preferred behavior is, then, make a request. Another tip is for people to focus on what they want to happen, instead of what isn't happening or what happened that they didn't like.
6. A person must learn to tell their whole truth. The truth is their recognition of what they are experiencing inside themselves and outside of themselves at any given moment. If they are experiencing an upset or a disappointment they may know or understand less about what they are experiencing than at other times. People should find the courage to say as much as they can about what they think, feel, need and want. When they have more clarity or additional knowing they should be sure to share what they know with their partner.
7. Listening is an essential and valuable skill. Becoming a good listener takes time and practice, and is enormously appreciated by others. When a person is engaged in a meaningful conversation, they might say to their partner, "Tell me more." This is a special invitation that conveys their interest, and intention to listen and really know their partner and understand the issue.
About Couples in Trouble Marriage Educator and Coach Dr. Jackie Black
Jackie Black, Ph.D, BCC is an internationally recognized marriage educator and relationship coach who serves couples in trouble who are serious about doing what it takes to stay together through her marriage coaching programs. Named by COSMOPOLITAN magazine as one of their most beloved international love gurus, Dr. Jackie guides couples out of trouble to reignite the spark in their marriages step by step and day by day. Hundreds of happy clients around the world turn to Dr. Jackie's programs to save and improve their relationships. Dr. Jackie is a frequent guest expert on radio programs throughout the U.S. and Canada and on Internet radio and is regularly cited in major magazines in the U.S. and abroad. To interview Dr. Jackie Black, engage her to speak, and/or to access her gift eGuide offering 3 Fast + Fun Ways to Reignite the Spark in Your Marriage TODAY, visit http://www.drjackieblack.com.