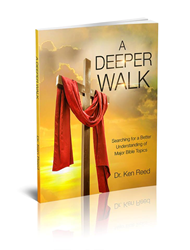 Ken I read your book and it's great! Doug Nelson
CARLSBAD, Calif. (PRWEB) October 17, 2017
Finding Jesus late in life, Dr. Ken Reed is excited to share the truths he's found in God's Word as a Christian. A DEEPER WALK is a series of Bible Study Topics & Outlines by Dr. Ken Reed arraigned topically with author commentary for easy reading and understanding.
Experience
In Dr. Reed's years of experience applying the principles he learned as an officer in the Marine Corps, teachings in Law School, and in business, Dr. Reed approaches his Biblical Studies and writings with carefully prepared research, thoughtfulness and planning. In his words: "Approaching The Bible as the Inspired Word of God is the only way we can truly understand the Bible."
Feedback
The early feedback has been very positive. From Dr. Reed's Pastor, "This is amazing, how did you do this? I could get an unending number of sermons from your book."
Layout
Written in easy to understand outline format make the content very easy to read, consume and understand. A DEEPER WALK is a series of selected Biblical Topics and Commentaries. The Series is intended to be a Tool to Assist Christians and Bible Students in their Study of the Bible.
Style
Dealing right off the top with engaging subjects, such as, Creation, the Nature of God, and the infallibility of the Bible is Dr. Reed's style. Simple and Direct. An example of the author's style, as found on page 24 of A Deeper Walk, the author states:
Praise for A DEEPER WALK:
"For the new Christian or the seasoned Bible student the simplicity of the presentation along with the profound truths of God's Word will leave an indelible and lasting impression on the mind and heart of every student. A DEEPER WALK is sure to become a favorite next to the other Bible Study resources for the theology student and Bible lover alike." Thomas Johnson
"Ken I read your book and it's great!" Doug Nelson
"Ken, love your book, it is a good source for learning who Christ is." Linda Heck
A DEEPER WALK series is NOT the following:
1.) A New Interpretation of the Bible;
2.) A Short Cut in place of Reading and Studying the Whole Bible;
3.) A Book by Book analysis of the Bible;
4.) A Cult from a Revelation from God;
5.) A Speed Reading technique (It is just the Opposite)
In depth Bible study
A DEEPER WALK series provides Outlines of selected Bible Topics from God's Word. They are provided for use in a program of In-Depth Bible study. The outlines can also serve as a quick reminder of what has been learned from reading and studying passages of scripture. In this way it can be a useful tool for memorizing and sharing portions of Scripture with others.
Available at DrKenReed.org and on Amazon at Amazon.com and BarnesandNoble.com A DEEPER WALK E-Book is available at the introductory price of $0.99 cents on Amazon. The perfect bound print copy is 8x10" and 164 pages can be purchased for $14.97. Beyond Publishing CEO, Michael D. Butler says, "we are very excited to add A DEEPER WALK to our growing titles of Faith-Based books and plan to make it available in Christian book-stores for re-sellers and book distributors globally."
About Dr. Ken Reed
Dr. Reed is a Christian. He believes in God and that the Bible is the inspired word of God. He was born in Missoula, Montana; grew-up in Alaska and moved to Northern California for his High School and College years. Dr. Reed is a graduate of Stanford University and received his Juris Doctorate from the University of California.
He is dedicated to his wife and family. He and his wife Donna have been married 50 years and have three children and eleven grandchildren. They moved to Southern California in 1970 where he served during the Vietnam War as a Marine Corps Captain. After receiving his honorable discharge, he and his wife elected to make their home in the beautiful San Diego area.
His occupations included being one of the founders of a number of successful Medical Manufacturing Companies in the San Diego area.
During the process of raising their family, Dr. Reed's life has included being involved in local community activities. These activities included serving on the board of directors for the Boys and Girls Club, coaching Pop Warner and High School football, serving as an Associate Professor at Mira Costa College, joining a local Community Church and becoming a Christian. During the process of becoming a Christian, he developed a penchant for reading and studying Scripture on a daily basis. He also was blessed by the teaching of his local Pastors and Bible teaching Pastors on Radio and Television.
Through the years, Dr. Reed has been blessed by these Biblical Scholars with the answers to many of the questions that Christians encounter every day. He has made notes concerning these answers and wants to share them with everyone who is searching for explanations of Scripture. Difficulty in understanding Scripture is not new. The Bible gives us an example of this, in the case of the Ethiopian Eunuch (Acts 8: 26-40). The Eunuch was asked by the Apostle Philip if he understood the Scripture he had been reading. The Eunuch's reply was, "How can I, unless someone explains it to me?"
This series of Outlines and Commentaries is based on Dr. Reed's 20-year study of various translations of the Holy Bible and the publications of numerous Biblical Scholars. A DEEPER WALK is not intended to be a discourse covering the whole Bible. The series is intended only to be a tool aimed at assisting Christians in understanding portions of the Bible that are confusing to them. A tool for anyone who is interested in learning and retaining the truth found in these portions of the Bible.
Dr. Reed is a Bible believing Christian and in no way is the A DEEPER WALK Series intended to change even a single word in the Bible nor is it intended to replace reading and studying the whole Bible.
Dr. Reed is available for speaking events and media interviews at http://www.drkenreed.org/contact-us/