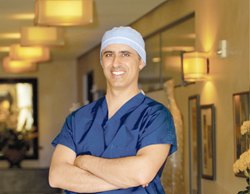 "I am delighted to see how this new technology is helping people to read more comfortably without glasses." ~Dr. Kerry Assil
Beverly Hills, CA (PRWEB) May 27, 2015
Renowned eye surgeon Dr. Kerry Assil will perform one of the first post-FDA-approved KAMRA™ inlay procedures on Friday, May 29th, at the Assil Eye Institute, helping patients regain near vision and eliminate the need for cumbersome reading glasses.
Dr. Assil, who is at the forefront of research and technology in eye surgery, was not only an early advisor on the KAMRA lens, but is also one of the first in the U.S. to perform the procedure following its FDA approval.
"I began evaluating the KAMRA corneal inlay nearly 15 years ago," says Dr. Assil. "And I am delighted to now see the technology is helping people to read more comfortably without glasses, while also preserving their distance vision."
Affecting nearly 114 million Americans, presbyopia is a common progressive loss of near vision occurring in individuals over 40 years old, causing the need for reading glasses. The KAMRA inlay sits in the first few layers of the eye known as the cornea. Much smaller and thinner than a contact lens, the inlay is a mini-ring with an opening in the center. By using this pinhole effect, the inlay focuses light that comes into the eye. This restores near vision while maintaining distance vision without blurry zones.
"I am so excited to be finally able to offer this technology to our patients," says Dr. Mona Bagga, who will also be performing the KAMRA inlay at the Assil Eye Institute. "Presbyopia is a frustrating, yet unavoidable problem that sooner or later affects everyone. With our active lifestyles and incessant need for perfect vision for all activities, KAMRA offers a safe and effective option to enjoy excellent vision for distance and near without glasses or contact lenses for age groups 40 and above."
Dr. Kerry Assil is a world-renowned eye surgeon and innovator, who continues to make significant advances in his field as a leader in research with state-of-the-art technology at the Assil Eye Institute. In addition to housing the best experts in eye care through his Beverly Hills & Santa Monica, Calif. practices, Dr. Assil continues to also train thousands of physicians in refractive and cataract surgery as well as being a regular media expert. As the physician of choice for professional athletes, numerous A-list celebrities and industry leaders, Dr. Assil is sought after by patients who travel from around the world to be treated by the best. His expertise has been featured on "The Doctors," Good Morning America," "The Today Show," "The Swan," "Home & Family," Wall Street Journal, US News & World Report, Los Angeles Times, USA Today, Time, People Magazine, and InTouch, among many others.
Media interview opportunities: Both Dr. Assil, Dr. Bagga and patients are available for interviews.
For additional information on Dr. Assil, please visit: http://www.AssilEye.com