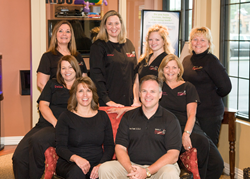 I have said for a long time that we need to take care of the brave men and women who have given so much to defend and protect our country, and this event lets me follow up in what I believe in." - Dr. Kevin F. Postol
Ballwin, MO (PRWEB) November 05, 2015
For Dr. Kevin Postol and his wife, Belinda, giving back has always been a priority. The Ballwin, MO, family and cosmetic dentist says that the idea for his latest community action came from seeing an advertisement produced by the ADA, which reached out to veterans on a nationwide scale.
"I wanted to do something similar, but local," Dr. Postol says, adding "Belinda and I have always supported both veteran-focused efforts like Wounded Warriors and community-based outreach, so this is a chance for us to combine the two."
The plan for this year's Veterans Day program is to offer a variety of basic services free of charge to veterans who make an appointment for November 11, 2015. Services to be offered include exams, cleanings, and if needed one simple service such as a extraction or a filling per patient.
"A lot of veterans fall through the cracks, whether because of insufficient services offered through the VA, difficulty maintaining a permanent address, or any number of other issues," Dr. Postol comments. "I have said for a long time that we need to take care of the brave men and women who have given so much to defend and protect our country, and this event lets me follow up in what I believe in."
The event requires veterans to call and make an appointment for November 11th at the practice, conveniently located just outside St. Louis in Ballwin, MO. There will be zero charge for the visit, and Dr. Postol commits to seeing as many veterans as he can fit into the day.
"We have been alerting local veteran centers and the VA hospitals," says Belinda Postal, who is an RN but stays heavily involved in her husband's practice, serving as business manager as well as the Director of Operations for the practice's Sleep Disorders Dentistry clinic. "Our hope is that our schedule will be very full on November 11th."
Veterans interested in receiving care from Dr. Postol and his team are encouraged to call the practice for an appointment at (636) 394-6044. Appointments are limited. Patients will be asked to show ID.
###