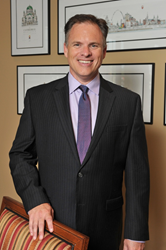 "This seminar is a chance for people to learn more about what dental implants are, how they work, and whether or not they could be a candidate."
Ballwin, MO (PRWEB) January 21, 2016
Dr. Kevin Postol will be holding an open-to-the-public dental implant seminar on January 28th.
"Far too many patients either don't know about dental implants or assume they would not be a viable candidate for the procedure," says Dr. Postol, who has been practicing in Ballwin since 1995. "I wanted to offer the community some information about this life changing aspect of dentistry, and felt a seminar - which would allow participants to ask questions - would be much more beneficial than a simple pamphlet."
Dr. Postol says dental implants are on the leading edge of dental reconstruction, but many patients aren't educated about the option. "A dental implant is highly superior to a bridge or dentures," he comments, adding "Once a tooth is lost, the likelihood of losing additional teeth increases exponentially."
With an implant, the entire structure of the tooth is replaced, instead of just the chewing surface. This restores support to the entire arch of teeth, lessening the likelihood of additional tooth and bone loss. However, many patients don't even consider the option of an implant, due to a lack of education about the procedure and its benefits.
"There's a lot of misinformation about dental implants" says Dr. Postol. "We see patients who are suffering with dentures that don't fit properly or slide around. They've seen additional teeth loosen and fall out, because they've been told they can't get an implant due to loss of bone or advanced periodontal disease."
All of these conditions can be overcome, according to Dr. Postol. Even if the gums are unhealthy or bone loss has occurred, steps can be taken to restore a solid foundation for an implant to be placed. Patients who have received dental implants can eat, chew, and speak normally, and enjoy years of restored dental health.
"I want patients to know they have options," Dr. Postol concludes. "This seminar is a chance for people to learn more about what dental implants are, how they work, and whether or not they could be a candidate."
The seminar will be held at 6:00 PM on Thursday, January 28, at Dr. Postol's Ballwin based dental practice at 15208 Manchester Road. Seating is limited, and reservations are being taken now. Call (636) 394-6044 to register, and find out more at bestballwindentist.com