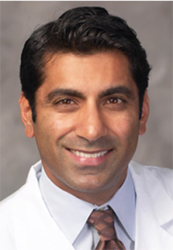 "With these minimally-invasive microscopic procedures on the horizon, we are able to help them get rid of their chronic back pain, improve their mobility, and begin living their best lives," said Dr. Khurana
Los Angeles, CA (PRWEB) April 11, 2016
Statistics published by the American Chiropractic Association show that back pain is the leading cause of disability worldwide. With over one-half of working Americans reporting experiencing low back pain and nearly 80 percent of the population expected to experience it at some point in their lives, it has also become the most common reason for missed work and the second most common reason for medical treatment.
It is with these statistics in mind that Los Angeles Spine Group, a premier treatment clinic with locations in Marina Del Rey and Newport Beach, is introducing their minimally-invasive solutions for treating back pain caused by a number of different spinal conditions. Those who are interested in learning more about these procedures and how they work can visit http://LASpinegroup.com/Spine-Surgery/.
Dr. Sanjay Khurana, one of the a board-certified, fellowship trained spine surgeons at Los Angeles Spine Group, stated "At our clinic, we pride ourselves on being on the cutting edge of spine treatments and being able to offer patients procedures that are up to par with the latest technologies and medical discoveries. Having expertise in microscopic surgery solutions allows us to do just that. During procedures like microsurgical discectomy, we use a special microscope to get an enlarged view of the affected disc and nerves. Performing surgeries this way gives the patients advantages that they can't get with other types of procedures."
Dr. Khurana goes on to say, "The microscopic surgery solutions we offer often end up being better for patients in that they allow us to limit the size of the incisions we have to make. Because the incisions are much smaller than with traditional surgical procedures, patients tend to recover faster with minimal scarring and less post-operative pain. When there is less muscle scarring and tissue damage, patients also find that they spend less time in physical therapy after the procedure."
"Our team wants to ensure that we always offer patients the best care. With these minimally-invasive microscopic procedures on the horizon, we are able to help them get rid of their chronic back pain, improve their mobility, and begin living their best lives."
Patients who would like to know more about what the Los Angeles Spine Group has to offer should log on to http://LASpineGroup.com/Degenerative-Disc-Disease/.
About Los Angeles Spine Group:
The Los Angeles Spine Group is a modern, state of the art medical facility dedicated to providing minimally invasive treatment and recovery services for a wide range of spinal conditions and injuries. Dr. Sanjay Khurana is an award winning, board certified adult and pediatric orthopedic surgeon, who, along with expert orthopedic spinal surgeon Dr. Rojeh Melikian, created the Los Angeles Spine Group. At this spinal facility, back experts successfully treat patients from the LA area and around the world for common and complicated back pain and injuries, including minimally invasive microsurgery, pediatric and adult scoliosis, cervical (neck) spine surgery, spine trauma, spine tumors, and spinal reconstruction.
For more information about us, please visit http://LASpinegroup.com/
Los Angeles Spine Group
13160 Mindanao Way, #300,
Marina del Rey, CA 90292
(310) 596-1496
Info(at)LASpineGroup(dot)com