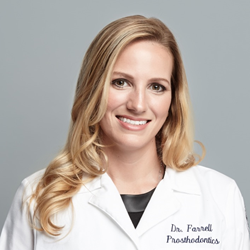 "My ideal patient knows what a prosthodontist is, and trusts my knowledge and skills to create a perfect treatment plan." - Dr. Kimberly Farrell
Scarsdale, NY (PRWEB) April 12, 2016
Advanced Dentistry of Scarsdale, a comprehensive aesthetic and reconstructive dental group, is proud to announce the addition of Dr. Kimberly A. Farrell to their team of dental professionals.
Dr. Farrell attended Wagner College in Staten Island to achieve her BS in Chemistry, received her DMD from the University of Pennsylvania School of Dental Medicine and followed with a residency at New York Methodist Hospital in Brooklyn. She completed her post graduate work at the University of Connecticut where she received her certificate in Prosthodontics, her MDS and is currently a board certified prosthodontist.
"I originally planned on becoming an orthodontist," says Dr. Farrell. "I found a passion for more complex treatment planning at UPenn, however, and decided that full mouth reconstruction and smile design would better allow me to provide the absolute best possible care for my patients."
Dr. Farrell joins a highly qualified team at Advanced Dentistry of Scarsdale; the existing clinicians include two other Prosthodontists, a Periodontist (specializing Implants, gum disease and treatment) and a cross-trained Periodontist / Orthodontist.
"Our practice is always excited about a new, talented clinician joining the team," says Dr. Steven A. Brisman, the Prosthodontist who founded the multi-disciplinary dental group. "Dr. Farrell is highly trained, skilled and possesses terrific people skills, which is exactly the kind of dental professional we were looking for and are fortunate to have found."
The practice boasts its own on-site dental ceramics laboratory, a warm, friendly environment, and a range of services that ensure most patients can receive all their dental care under one roof.
Dr. Farrell and her fiancée, Michael (who is training to become an oral surgeon) live in nearby Connecticut with their dog, Nelli. "We spend our spare time together, with his family or mine," says Dr. Farrell, adding, "I'm a certified instructor at a fitness studio, and teach at the University of Connecticut Dental School twice a week, so personal time is premium time."
To schedule a consultation or appointment, visit the practice website or call (914) 725-7100.