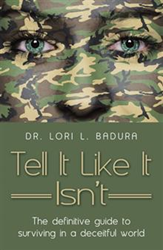 BERLIN, Mass. (PRWEB) January 05, 2015
Author and psychologist Dr. Lori L. Badura explores the elements of truth and fiction in everyday life to exemplify the ways in which she feels deception has woven itself into the fabric of modern society in her new book "Tell It Like It Isn't: The Definitive Guide to Surviving in a Deceitful World" (published by Archway Publishing).
This guide to understanding the implications of deception and misinformation examines public figures and members of popular culture as specimens for a case study on the subject of lying. Dr. Badura's narrative also points the finger at consumers of information, highlighting the public's culpability in perpetuating what she calls a "culture of deceit."
"The deceitful posturing during the recent Republican primaries and the presidential campaign were absurd," Dr. Badura says. "Nonetheless, I noticed that numerous colleagues and friends from both camps regularly bought into what their candidate of choice was saying, without even a modicum of fact-checking or intelligent consideration. I got fed up with trying to get them to see their errors in thinking and instead started to lay out facts for these individuals in a way that fostered their ability to make more informed judgments."
By considering the evolutionary, psychological and social pressures that underpin human behavior, Dr. Badura takes a probing look at the lies people tell and why they tell them, as well as how informed judgments about the information people receive can be made using rational, deductive reasoning and available public information sources.
"Rather than simply presenting information, Badura encourages the reader to think about how they could apply the information to their own experiences, whether it is a suspicious spouse, slick sales pitch, or hyperbolic political debate" says Dr. John C. Parker, a social psychologist who reviewed the work.
Dr. Badura says her book will challenge the reader to consider not only why people lie, but also why people tolerate so much deception in modern society.
"Tell It Like It Isn't"
By Dr. Lori L. Badura
Hardcover | 5.5 x 8.5 in | 312 pages | ISBN 9781480811584
Softcover | 5.5 x 8.5 in | 312 pages | ISBN 9781480811591
E-Book | 312 pages | ISBN 9781480811607
Available at Amazon and Barnes & Noble
About the Author
Dr. Lori L. Badura is a psychologist and neuroscientist whose career spans three decades across both academic and industry settings. She lives near Boston with her husband, two horses, a lazy cat and three exceptionally mischievous ferrets.
Simon & Schuster, a company with nearly ninety years of publishing experience, has teamed up with Author Solutions, LLC, the leading self-publishing company worldwide, to create Archway Publishing. With unique resources to support books of all kind, Archway Publishing offers a specialized approach to help every author reach his or her desired audience. For more information, visit http://www.archwaypublishing.com or call 888-242-5904.