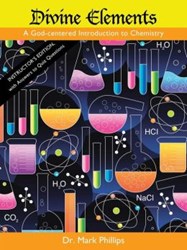 They will see how God's character and attributes are reflected in the fundamental nature of the universe through this study of chemistry.
Los Angeles (PRWEB) February 11, 2014
Mark Phillips, IVP author of "Truth Seeker: A New Journey to God" and "Secrets and Lies: My Journey to Enlightenment," presents an easy-to-understand text for chemistry students and an easy-to use system for instructors teaching chemistry alongside the Word of God in "Divine Elements: A God-centered Introduction to Chemistry" (published by CrossBooks). Both student and teacher editions are available.
"Every secondary student needs chemistry," states Phillips. "Every chemistry student needs a good understandable text, and every Christian chemistry student needs such a text from a Christian perspective, integrating chemical concepts with biblical theology. And every teacher can use a simple start-up and plug-in system."
Intended for homeschoolers, Christian schools, classical preparatory academies, and first-year college chemistry, "Divine Elements" introduces readers to fundamental chemistry topics from a Christian perspective. Phillips includes sections on the roles of protons, neutrons and electrons; basics of the periodic table; chemical bonds; stoichiometry; gas laws and how to understand and balance chemical equations. Even if it's not used as the primary textbook, "Divine Elements" still provides a terrific and inexpensive supplement to existing chemistry textbooks and courses, as well as a week-by-week guide to the instructor for teaching chemistry.
Phillips hopes to instill in his readers a love for chemistry and awe for how God built the universe from the subatomic particle to the billions of galaxies. He says, "They will see how God's character and attributes are reflected in the fundamental nature of the universe through this study of chemistry."
"Divine Elements"
By Dr. Mark Phillips
Softcover | 8.25 x 11 in | 378 pages | ISBN 9781462731459
E-Book | 378 pages | ISBN 99781462731466
Available at Crossbooks, Amazon and Barnes & Noble
About the Author
Dr. Mark Phillips has had a broad and unusual career – from The Tonight Show, where he appeared with comedian Steve Martin, to the University of Oxford in England, where he received the first of three graduate degrees, to many years in research at Vanderbilt University, first as an animal surgeon, then as an analytical biochemist. There he became a believer in Christ through the scientific evidence for God and Christianity, eventually landing him in the pulpit as senior pastor in an evangelical church. He is currently the chairman of the Department of Theology and Science at Trinity Classical Academy in northern Los Angeles. More information can be found at http://www.godchemistry.com.
CrossBooks, a division of LifeWay Christian Resources of the Southern Baptist Convention, is a Christian publishing imprint committed to bringing more Christian voices into the publishing industry. Established authors, first-time authors, and authors anywhere in between can meet their goals and fulfill their vision for their books by publishing with CrossBooks. CrossBooks' innovative style of publishing blends the best of traditional and self-publishing. While our authors contribute monetarily to cover the cost of publishing, we maintain a strict moral and quality standard that every manuscript must meet for us to publish. For more information on publishing your Christian book with CrossBooks, log on to crossbooks.com or call 1-866-879-0502.