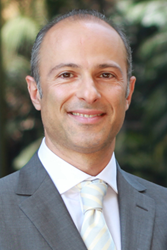 "Finding new and innovative ways to treat urological conditions for both women and men, and improve quality of life is our top priority," said Dr. Michel
Beverly Hills, CA (PRWEB) July 05, 2016
According to Science Daily, researchers at Beaumont Health have announced that they are working with Memphis, TN based pharmaceutical company GTx, Inc. to test the potential of a new pill to strengthen the pelvic floor muscles involved in controlling the urine flow from the bladder. Urinary stress incontinence can affect anyone, but it is especially common in women after childbirth. Stress incontinence causes urine leakage due to pressure on the bladder from common activities like sneezing, laughing, coughing, or jumping. Treatment varies from case to case, and typically involves some form of behavior modification and physical therapy to strengthen the pelvic muscles, the use of medical devices like urethral inserts and pessaries, medication, and in some cases, surgery.
Learn about the different types of incontinence: https://Comprehensive-Urology.com/Incontinence/
"Stress incontinence can have an impact on the sufferer's personal, professional, and overall quality of life," said Dr. Kia Michel, board certified urologist and female incontinence specialist at Comprehensive Urology and the Institute for Incontinence, Vaginal Reconstruction & Women's Health in Beverly Hills. "For many women, natural life events like getting older and having a baby can weaken the pelvic muscles and cause problems with urine leakage."
The researchers at Beaumont Health in Michigan will orally administer 3mg of the medication enobosarm to 35 postmenopausal women on a daily basis over a 90 day period to study the effects of the drug on pelvic muscle resiliency and the resulting stress incontinence.
"Finding new and innovative ways to treat urological conditions for both women and men, and improve quality of life is our top priority," added Dr. Michel. "This study could be a step in the right direction."
Kia Michel M.D. earned his medical degree at the University of Washington School of Medicine and completed his residency at UCLA. He has also been recognized as a National Pfizer Scholar. As one of the founding members of the reputable Comprehensive Urology Medical Group, located in the Cedars-Sinai Medical Towers in Los Angeles, California, Dr. Michel treats a host of urologic diseases. One of the few urologists who is both an acclaimed vaginal reconstructive and minimally invasive surgeon, Dr. Michel is a compassionate doctor who has dedicated his career to providing state-of-the-art care for his patients with a warm, nurturing touch.
Comprehensive Urology is a renowned urological practice in Los Angeles that provides state of the art urological care in a personalized and compassionate environment. The physicians at Comprehensive Urology are board-certified urologists with specialty training in a number of different aspects of urology and provide tailored care for their patients with outstanding results.
Call them today at (310) 278-8330 or visit their website: http://www.Comprehensive-Urology.com.
Comprehensive Urology
8631 W 3rd St #715e
Los Angeles, CA 90048
(310) 499-2756
CUinquiry(at)gmail(dot)com