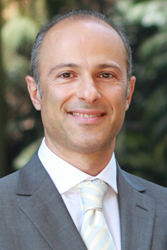 As we learn more about the behavior of cancer cells we can expect more sophisticated treatments that break down the machinery involved in helping malignant cells to proliferate," said Dr. Michel
Beverly Hills, CA (PRWEB) July 06, 2016
According to a new study from The Institute of Cancer Research in London, published in the Cancer Research journal, a new category of drugs (Hsp90 inhibitors) may prove effective in treating metastatic prostate cancer that has become resistant to other forms of treatment, leaving patients with late stage prostate cancer with few options for further treatment. The researchers, co-led by the institute's chief executive Professor Paul Workman, have labeled the drugs in the study as "network drugs" because they focus on disrupting the cellular signals necessary for the proliferation of malignant prostate cells.
"There have been remarkable developments in drug therapy for prostate and all forms of cancer," said Dr. Michel. "One of the mechanisms of cancer is to disrupt the normal function of healthy cells by causing the cell to replicate harmful proteins, which can cause the cancer to spread and become resistant to established drugs. As we learn more about the behavior of cancer cells and the cellular processes involved in its development, we can expect more sophisticated treatments that break down the machinery involved in helping malignant cells to proliferate."
About prostate cancer: https://Comprehensive-Urology.com/Prostate-Cancer/
The Hsp90 inhibitors, which have been tested on mice and are currently being tested in human clinical trials for several forms of cancer, work by targeting androgen (male hormone) receptors that fuel prostate cancer cell growth. The drugs also proved effective in targeting the abnormal versions of the receptor, which are more adept at evading targeted cancer drugs.
"Prostate cancer is generally very treatable when caught early," said Dr. Michel. "However, potential new treatment options like Hsp90 inhibitors offer hope for patients who have run out of other treatment options."
What is a prostate cancer biopsy? https://Comprehensive-Urology.com/Prostate-Biopsy/
Kia Michel M.D. earned his medical degree at the University of Washington School of Medicine and completed his residency at UCLA. He has also been recognized as a National Pfizer Scholar. As one of the founding members of the reputable Comprehensive Urology Medical Group, located in the Cedars-Sinai Medical Towers in Los Angeles, California, Dr. Michel treats a host of urologic diseases. One of the few urologists who is an acclaimed prostate cancer surgeon and an expert in minimally invasive therapies, Dr. Michel is a compassionate doctor who has dedicated his career to providing state-of-the-art care for his patients with a warm, nurturing touch. In addition to Comprehensive Urology, Dr. Michel is also a founding member of the Integrated Prostate Cancer Center in Los Angeles, an advanced facility dedicated to the treatment and prevention of prostate cancer.
Comprehensive Urology is a renowned urological practice in Los Angeles that provides state of the art urological care in a personalized and compassionate environment. The physicians at Comprehensive Urology are board-certified urologists with specialty training in a number of different aspects of urology and provide tailored care for their patients with outstanding results.
Call them today 888-562-0929 at or visit their website: http://www.Comprehensive-Urology.com.
Comprehensive Urology
8631 W 3rd St #715e
Los Angeles, CA 90048
(310) 499-2756
CUinquiry(at)gmail(dot)com