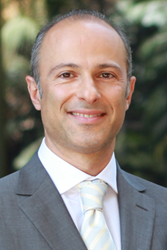 "Prostate cancer is one of the more treatable and survivable forms of cancer when diagnosed early," said Dr. Michel
Beverly Hills, CA (PRWEB) July 07, 2016
A Russian-led study published in the Journal of Drug Targeting has identified a set of molecules that could offer the promise of more targeted treatment options for prostate tumors.
"We have come a long way in effective prostate cancer treatment," said Dr. Kia Michel, urologist and prostate cancer surgeon at Comprehensive Urology in Beverly Hills. "At Comprehensive Urology we offer everything from state of the art imaging and diagnostic testing, to minimally invasive robotic surgery. The goal is always to successfully treat the cancer, while also protecting the surrounding healthy cells and tissue as much as possible."
Learn about prostate cancer: https://Comprehensive-Urology.com/Prostate-cancer/
In order to better understand how specific molecules bind to and target certain cells, the researchers focused on prostate specific membrane antigen (PSMA), a protein found in abnormally high concentrations in prostate cancer cells. The presence of elevated PSMA levels helps oncologists to locate primary as well as secondary tumors that may slip detection and treatment. The researchers targeted three categories of molecules for their ability to target and bind to PSMAs:

Antibodies
Peptide molecules from DNA and RNA fragments known as aptamers
Ligands
Of the three, the ligands showed the most promise for targeting the PSMA. From there, the researchers focused on 11 urea-derived compounds believed to help block the replication of cell DNA, the way by which cancer cells proliferate. Through ongoing clinical trials, the researchers hope to develop treatments designed to specifically target the prostate cancer cells, while leaving the surrounding healthy tissue in tact.
"Prostate cancer is one of the more treatable and survivable forms of cancer when diagnosed early, and the outlook for better and more targeted treatments has never been better," added Dr. Michel.
Learn more about prostate preservation techniques: http://ProstateCancerDr.com/Focal-Treatment/
Kia Michel M.D. earned his medical degree at the University of Washington School of Medicine and completed his residency at UCLA. He has also been recognized as a National Pfizer Scholar. As one of the founding members of the reputable Comprehensive Urology Medical Group, located in the Cedars-Sinai Medical Towers in Los Angeles, California, Dr. Michel treats a host of urologic diseases. One of the few urologists who is both an acclaimed cancer and robotic surgeon, Dr. Michel is a compassionate doctor who has dedicated his career to providing state-of-the-art care for his patients with a warm, nurturing touch. In addition to Comprehensive Urology, Dr. Michel is also a founding member of the Integrated Prostate Cancer Center in Los Angeles, an advanced facility dedicated to the treatment and prevention of prostate cancer.
Comprehensive Urology is a renowned urological practice in Los Angeles that provides state of the art urological care in a personalized and compassionate environment. The physicians at Comprehensive Urology are board-certified urologists with specialty training in a number of different aspects of urology and provide tailored care for their patients with outstanding results.
Call them today at (310) 278-8330 or visit their website: http://www.Comprehensive-Urology.com.
Comprehensive Urology
8631 W 3rd St #715e
Los Angeles, CA 90048
(310) 499-2756
CUinquiry(at)gmail(dot)com