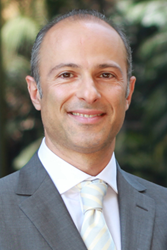 "It is important to highlight the fact that Ben Stiller's story is just one out of thousands. Early testing turned out to have a positive outcome for him, but there are plenty of men for whom that won't be the case," said Dr. Michel
Beverly Hills, CA (PRWEB) November 07, 2016
As one of the most highly sought after urologists in Los Angeles, Kia Michel, M.D., has extensive experience with the complexities involved in diagnosing and treating prostate cancer. According to an article on CNN.com, actor Ben Stiller has not only opened up about his battle with prostate cancer in 2014 but has also urged men to undergo prostate cancer screening as early as 40 years of age. The actor was diagnosed with the disease after his doctor suggested he take a prostate-specific antigen (PSA) test at age 46. Within the same year, Stiller was diagnosed with prostate cancer and the tumor was surgically removed three months later. He is still free of cancer today.
"It's incredibly important for people like Ben Stiller to speak openly about their experience with prostate cancer," said the founder of LA-based Comprehensive Urology, Dr. Kia Michel. "As the second most common cancer among men in the U.S., spreading awareness for prostate cancer screening and treatment is vital. However, it is important to highlight the fact that Ben Stiller's story is just one out of thousands. Early testing turned out to have a positive outcome for him, but there are plenty of men for whom that won't be the case."
Read more about prostate cancer here: https://Comprehensive-Urology.com/Prostate-Cancer/
A prostate-specific antigen test measures the amount of a particular protein produced by the prostate in the patient's blood. The levels can indicate the presence of cancer, however, the test results may become less reliable the younger the patient. PSA tests often produce false-positive or false-negative results, which can lead to further tests that can be invasive, such as biopsies or total prostate removal.
"Every patient's case is different. Patients who are 50 years or older, are African-American, or have a family history of prostate cancer typically have a higher risk for the disease than others, but it's crucial to discuss the pros and cons of screening with a prostate specialist, such as myself or my team," added Dr. Michel. "Ben Stiller was incredibly lucky to have a doctor who suggested a baseline PSA test even before the standard age of testing, but again, that is one case out of millions every year. We strongly suggest meeting with a board-certified urologist to learn more about whether screening is necessary, as well as the impact the testing can have on the individual's quality of life."
Kia Michel, M.D., earned his medical degree at the University of Washington School of Medicine and completed his residency at UCLA. He has also been recognized as a National Pfizer Scholar. As one of the founding members of the reputable Comprehensive Urology Medical Group, located in the Cedars-Sinai Medical Towers in Los Angeles, California, Dr. Michel treats a host of urologic diseases. One of the few urologists who is an acclaimed cancer and robotic surgeon, Dr. Michel is a compassionate doctor who has dedicated his career to providing state-of-the-art care for his patients with a warm, nurturing touch. In addition to Comprehensive Urology, Dr. Michel is also a founding member of the Integrated Prostate Cancer Center in Los Angeles, an advanced facility dedicated to the treatment and prevention of prostate cancer.
Comprehensive Urology is a renowned urological practice in Los Angeles that provides state of the art urological care in a personalized and compassionate environment. The physicians at Comprehensive Urology are board-certified urologists with specialty training in a number of different aspects of urology and provide tailored care for their patients with outstanding results.
Call them today at (310) 278-8330 or visit their website: http://www.Comprehensive-Urology.com.
Comprehensive Urology
8631 W 3rd St #715e
Los Angeles, CA 90048
(310) 499-2756
CUinquiry(at)gmail(dot)com