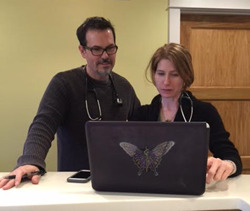 We treat the whole person, finding out what is the underlying cause of their issue, said Jodi Westfall.
Oxford, OH (PRWEB) January 29, 2016
This new partnership between Dr. Nathan Morris of Good Medicine and Jodi Westfall, CNP, will provide an increased breadth of services. Dr. Morris is well known for his advanced work in treating autism, autoimmune diseases, Lyme disease, skin cancer, depression, anxiety, ADHD in adults and children, and much more through the use of genetic testing, nutrition and detoxification. Now, with the addition of Jodi Westfall, CNP, their joint practice will provide for a more intensive women's health focus including pre-conception counseling, bio-identical hormone replacement, menopause therapy and treatments for all types of skin disorders. The combination of their services will provide complete care for most adults and children.
"We are thrilled to be working with Jodi," said Dr. Nathan Morris. "I have known her for a long time and having her join my practice just makes sense. It rounds out the services we can provide, really fulfilling the needs of most patients."
Good Medicine has relocated from College Corner to Oxford, Ohio. Dr. Morris started Indian Creek Family Health Center in Oxford in 2001. After re-examining his scope of medical treatment, he left his highly successful traditional medicine practice, and reentered the medical field as a functional medical provider in 2009. His move back to Oxford, Ohio will bring him back to a more geographically accessible location.
Dr. Morris has gained notoriety in the medical field for his advanced work with Pure Genomics. This state-of-the-art, web based program, he helped develop allows complex genetic testing to be analyzed and reviewed so functional medicine providers can successfully identify and treat many potential diseases. Dr. Morris states, "Understanding a patients' genetics allows the provider to understand how to bypass genetic issues with simple supplementation of appropriate nutraceuticals." More can be learned on the Pure Genomics web site.
Jodi Westfall brings her own expertise to the practice, eliminating many skin disorders, like chronic acne and psoriasis that plague adults with no seeming cure by applying basic functional medicine principles. "We treat the whole person, finding out what is the underlying cause of their issue. We don't manage the symptoms, we get to the root of the problem and fix it," said Jodi.
With the partnership of two of the most successful and advanced medical providers, Good Medicine will offer their patients the chance for a medical cure, not a band-aid.
For more information about Good Medicine or Pure Genomics, visit their web sites at
http://www.GoodMedicineonline.com
http://www.puregenomics.com
Or call the office at 513-273-9944