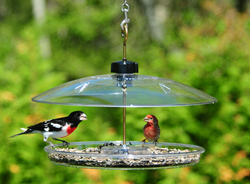 With a virtually unobstructed view of visiting birds, the feeder offers a constant source of excitement and interest as backyard bird watchers attempt to identify their fly-by guests.
Plainfield, CT (PRWEB) August 12, 2014
Platform bird feeding is the perfect way to attract a wide variety of birds for the pleasure of bird watching. The flat, open surface of Droll Yankees' Covered Platform Feeder attracts the most desired feeder birds, such as Eastern Bluebirds, Indigo Buntings, American Goldfinches, Rose- Breasted Grosbeaks, Purple Finches, Red- bellied and Downy Woodpeckers, Evening Grosbeaks, Tufted Titmice, and Black-capped Chickadees. With a virtually unobstructed view of visiting birds, the feeder offers a constant source of excitement and interest as backyard birders attempt to identify their fly-by guests.
According to the USA & Canada Wild Bird Feeding Industry Benchmark Research Study 2013, 41% of households in USA and Canada own platform feeders. In research done by the Wild Bird Feeding Industry's Project Wildbird, it has been shown that the same birds that are attracted to this type of feeder are some of the birds most desired by bird feeder owners. The new Covered Platform Feeder can be hung or pole mounted, a placement feature that allows optimal viewing. Like most Droll Yankees products, the parts of the Covered Platform Feeder are made in the U.S.A. and the feeder is assembled in Connecticut. UV stabilized polycarbonate parts with nylon and brass fittings were chosen as materials for their strength and resilience to perform for years of backyard bird feeding.
The 13" platform has drainage holes to draw off any potential rain or snow and also provide continual air circulation. This feature allows the seed to breathe and stay dry and thwarts the growth of mold and mildew. Cleanliness is so important to the health of wild birds and this feature will assist owners in their pursuit for feeder hygiene. The height adjustable cover is designed to manage desired bird size simply by lowering it for smaller birds or raising it to allow for the bigger birds, like Cardinals and Blue Jays.
The Covered Platform Feeder's open surface easily allows for a varied selection of different food types. Different foods attract different visitors, thus increasing the opportunity for the broadest selection of birds. The commonly offered food types for a platform feeder are black-oil sunflower, mealworms, Nyjer®, whole peanuts, fruit, and suet. When open visibility is combined with a large variety of birds, the result can only be a wonderful experience for lovers of wild birds.
###
Look for other Droll Yankees feeders, accessories, and new products at your local retailer, call Droll Yankees at 888-851-6621, or shop online at http://www.drollyankees.com.
In 1969, Droll Yankees started a bird-feeding revolution with Model A-6F, the first tubular bird feeder. Since then, Droll Yankees has built on that success, continually developing innovative approaches to bird feeding that benefit both the birds and Droll Yankees customers. Generations of bird lovers have appreciated Droll Yankees' quality construction, functional simplicity, and commitment to American workers. Droll Yankees offers a Lifetime Warranty and will replace any squirrel-damaged or defective parts, free of charge. To learn more about Droll Yankees' products, visit http://www.drollyankees.com.