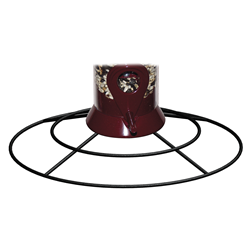 Two concentric rings add 47 inches of perching space, providing the space of a seed tray without the upkeep of removing old seed and hulls.
Plainfield, CT (PRWEB) March 22, 2017
Droll Yankees just introduced the Tidy Perch & Bird Feeder Stand (TPS) to their lineup of bird feeders and accessories. The Tidy Perch expands the perching space on bird feeders, and more perching space means more backyard birds. Eminently practical, the 9.2-inch diameter perch doubles as a bird feeder stand that stabilizes a tubular feeder when placed on the ground, making refilling a feeder almost effortless. Especially perfect for winter bird feeding, its open design will not accumulate snow which can block the lower feeder ports. Seed hulls and other debris will likewise fall through its open design while its elegant, dome-like symmetry complements the rounded shape of most backyard bird feeders.
The Tidy Perch is the perfect accessory for winter use. Snow can accumulate on solid seed trays, making removal of old seed, seed hulls and debris less than convenient. Accumulated snow can add additional weight to the feeder, even blocking birds' access to lower feeding ports and covering seed placed on the tray. The Tidy Perch solves these winter feeding issues by providing open space between the steel wire perch rings, preventing snow buildup and rendering unnecessary the removal of seed hulls, debris, and snow. Solid seed trays are ideal for spring and summer, when parent birds are teaching their uncoordinated fledglings how to balance and feed from a feeder. By winter, however, the birds have sufficiently matured to perch without issue, and the Tidy Perch ensures access to seed ports during the snowy months when food can be scarce and solid seed trays may be less desirable.
Many birds will willingly share a bird feeder, so adding more perching space will naturally attract more of those species. Two concentric rings add 47 inches of perching space, providing the space of a seed tray without the upkeep of removing old seed and hulls. Research conducted by the Wild Bird Feeding Industry places having more birds at their feeders as the number one desire of those that feed birds.
The Tidy Perch & Feeder Stand stabilizes bird feeders while refilling, providing a broad and steady platform support. Bird feeders can be frustrating to refill, often requiring a balancing act fit for the circus. The Tidy Perch & Bird Feeder Stand simplifies the feeder refilling process, preventing seed waste from accidental spills and saving the backyard birder unnecessary frustration in an otherwise relaxing hobby.
The Tidy Perch's rust resistant, powder-coated steel construction will withstand the elements for years to come, while its open, dome-like design gives it a graceful look that complements the natural movements of backyard birds.
The Tidy Perch & Bird Feeder Stand attaches easily to the bottom of Droll Yankees threaded base bird feeders and many others with the included Wing Nut, without tools. The sturdy Wing Nut hook can even hold another feeder below, maximizing precious backyard real estate for increased birding opportunities. Designed to complement a diverse array of bird feeders, the Tidy Perch's black coloration blends perfectly with every metal and color feeder. Its circular shape and arched curves complement tubular and domed bird feeders alike. Using the ADPT pole adapter, the Tidy Perch can be pole-mounted in conjunction with a pole-mount compatible bird feeder, adding additional perching area beneficial to many songbirds.
The Tidy Perch & Bird Feeder Stand's durable, quality design and practical performance give it the value that generations of birding enthusiasts have come to expect from Droll Yankees, makers of The World's Best Bird Feeders and birding accessories. To purchase a Tidy Perch & Bird Feeder Stand, stop by a local Droll Yankees retailer or visit DrollYankees.com.
###
Visit http://www.drollyankees.com to learn more about feeding birds and to purchase bird feeding products.
In 1969, Droll Yankees started a bird feeding revolution with Model A-6F, the first tubular bird feeder. Since then, Droll Yankees has built on that success, continually developing innovative approaches to bird feeding that benefit both the birds and Droll Yankees customers. Generations of bird lovers have appreciated Droll Yankees' quality construction, functional simplicity, and commitment to American workers. Droll Yankees offers a Lifetime Warranty Against Squirrel Damage and will replace any squirrel-damaged or defective parts, free of charge. Just Feed Birds® and Make a World of Difference.