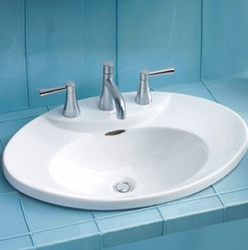 Drop in sinks are specifically designed to work with the existing counter top and hardware, and even leave a little wiggle room to choose a sink that's a slightly different size or shape than the previous one.
(PRWEB) July 08, 2014
HomeThangs.com – the Online Home Improvement Store has made their goal to deliver the right product to the consumer. With that in mind, shopping and home design tips, as well as special product selections are being introduced.
Fancy sinks are a hallmark of big, luxurious designer bathrooms, but while decorative vessel sinks are a signature mark of these really decadent designs, they aren't particularly practical for most people. Vessel sinks look great, sure, but they require often fairly extensive renovation and a much bigger budget. Drop in sinks might be a bit less glamorous, but HomeThangs.com has introduced a guide to why they're a fantastic way to quickly and affordably update a bathroom space.
There are three main kinds of bathroom sinks: vessel sinks, undermount sinks, and drop in sinks (also known as self rimming sinks). Vessel sinks sit on top of the vanity and undermount sinks are mounted to the underside of the vanity top, but drop in sinks fall somewhere in between. Like undermount sinks, the basin of a drop in sink will sit mostly below the level of the counter top. But instead of mounting inside the vanity, it is simply "dropped" through the hole in the counter, allowing a rim on the edge of the sink to rest on the counter around the hole cut for the sink, effectively anchoring the sink in place with its own weight.
This seemingly small difference has a few important implications, not the least that replacing an existing sink with a drop in sink is far and away the least complicated and time consuming option. Once the old sink is removed, installation of a drop in sink is practically child's play – just clean the area, lower the sink into place, and reattach the hardware and plumbing. There's no need to remove or replace the counter tops, or worry about important, weight-bearing clasps, clamps, or anchors. It's a project that's amazingly DIY friendly, even for people without much home improvement experience.
One of the biggest drawbacks of upgrading to a decorative vessel sink is all the extra work needed to accommodate one. But drop in sinks are specifically designed to work with the existing counter top and hardware. As long as the new sink is roughly the same size and shape as the old one, the basin of the sink will fit through the hole in the counter, and the lip will cover up any inconsistencies in size or shape. This is a huge difference from undermount or vessel sinks sinks, which have to be matched exactly with the hole in the vanity top. Drop in sinks are much less fussy, making it possible to get a sink that's fairly different looking without having to make any other changes.
Drop in sinks usually match the approximate size and shape of the hole they're filling, but this isn't always the case. Particularly with the rising popularity of designer sinks, it's becoming more and more common to find self rimming sinks with large, decorative "rims" in attractive or unusual shapes or designs. These mimic large, sculptural vessel sinks, with a basin that's slightly smaller and shallower than normal and an oversized rim, and have a more designer look and feel.
Even a fairly simple drop in sink can be a big improvement if the current sink is starting to show its age. Vessel sinks and undermount sinks might get extra points for style, but there's no faster way to make a bathroom look dated than to have worn or obviously dated fixtures. Swapping an old, damaged, or particularly unattractive sink for a new one is fast and affordable, but will make a very big difference.
There isn't a huge price difference between different types of bathroom sinks, but being able to use the same vanity top, faucet, and hardware can make a big difference in the total cost of the project. Plus, this is a job that can be done in an afternoon, or at most a weekend, meaning the bathroom won't be out of commission long. And since the sink is probably the most oft-used fixture in the bathroom, this subtle change can have a big impact on the appearance of the space as a whole.
For more ideas about choosing a drop in sink, check out the full article here.
HomeThangs.com is not only a home improvement superstore, it also provides expert design tips and a comprehensive shopping guide, taking the ideas from professional interior designers, and offering tips to the consumers on how to pick the products to best suit their needs.