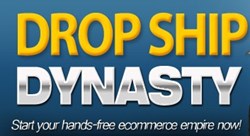 Start Your hands-free ecommerce empire Now!
Los Angeles, CA (PRWEB) October 27, 2013
Drop Ship Dynasty, a Los Angeles based organization, today opened the doors for clients across the globe. The company also announced the launch its new website. Speaking on the occasion, a representative of the company said, "We are excited to announce the launch of Drop Ship Dynasty along with our new website." The Company helps clear up misinformation among the drop shipping/wholesale industry and teaches beginners how to start their own profitable ecommerce company with little upfront investment through drop shipping. The representative added, "The purpose of the program is to guide new individuals through starting their own ecommerce business without the need for complex inventory management. Our aim behind launching the new website is to help people discover the pros and cons of drop shipping without all the bias they typically see online."
According to the sources, Drop Ship Dynasty acts as a personal coach and business plan, guiding users through the process of starting a new drop shipping business. The guide provides all the essential software and guidance needed to get an ecommerce site up and running, with minimal technical knowledge required. It also offers professional reviews and insider information about the industry and its major players. The program also provides detailed ecommerce marketing methods, including search engine techniques and shopping platforms to help drive traffic and sales.
Aaron Jacobson, of San Diego, CA and a user of the program says, "It's exactly what I was looking for. Everywhere I looked online someone was always trying to sell me something. This program cut out all the biased BS and showed me exactly what I needed to get the job done."
Sources revealed that the most successful users of the system are already using it to earn full-time income through drop ship ecommerce. Results will vary, but experts insist that drop shipping is a viable and increasingly more common way to streamline your ecommerce business and increase profits with little risk. Originally left to only a small portion of online retailers, drop shipping is now used by the vast majority of successful online merchants and it's use is only growing into 2013. For this reason, industry veterans like Allan insist it become a major initiative for anyone looking into selling online, especially those who have a small inventory budget.
About Drop Ship Dynasty
Drop Ship Dynasty is a drop shipping success program designed to help people navigate the complicated and challenging drop ship industry. The guide provides expert advice, reviews, software, marketing tactics, wholesale listings, and more. Author, Allen Morgan, is an ecommerce industry veteran and long time drop shipping expert.