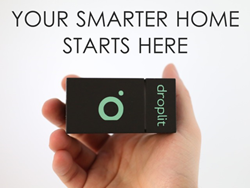 The Simple Smart Home Solution
Melbourne, FL (PRWEB) November 19, 2014
Right now on Kickstarter, there is a new smart home solution that has gone unnoticed for the first two weeks of its campaign. Apple and Google need not dictate the next generation of smart home devices when there's a scrappy startup with a solid answer. The makers of Droplit have created the Droplit Gateway and Droplit Cue remote, which not only unify the most popular smart home products, like Philips Hue, Belkin WeMo, and Sonos smart speakers into one open platform, but also dramatically improve the usability of these devices by making them faster and easier to use than ever before.
Because the next few years are critical in setting the direction of the smart home market, Droplit has created an open platform that will allow developers to create and integrate new smart products. Today, Droplit is announcing that they will open-source the application code that runs their smart home gateway, allowing developers and hobbyists to make changes and submit new features and functionality. And because openness is the future, one single company should not hold the keys to the future of smart home products.
Droplit offers the smallest smart home gateway on the market. The Droplit Gateway can be plugged directly into the wall and will automatically discover, connect to, and control Philips Hue, Lifx, and Lumen smart bulbs, Belkin WeMo switches, Sonos smart speakers, and Z-Wave smart switches and sensors. Droplit will have a free app that will unify control of these devices on every major platform including iOS, Android, and Windows Phone.
Droplit has focused on creating ways to control the home with using more than just an app by developing the Droplit Cue remote. Just like Philips has the Hue Tap Switch that lets users control their bulbs with the press of a button, Droplit has created a universal smart device remote called the Droplit Cue that can be customized to control any of the smart devices that the Droplit Gateway supports.
With only two weeks left in its campaign, visit the Kickstarter campaign page at http://bit.ly/DroplitKS and help bring this new solution to the market. Droplit aims to keep the Internet of things open and accessible to startups, not just to the tech heavy-weights.
Droplit – "The Simple Smart Home Solution" available on Kickstarter till December 5th: http://bit.ly/DroplitKS.
About Droplit
This smart home startup is working to transform the smart home experience into one that is ready for the DIY mainstream consumer. To learn more about Droplit, visit http://getdroplit.com.