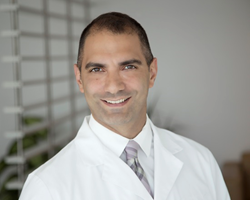 Los Angeles, CA (PRWEB) November 04, 2014
K and B Surgical Center is proud to announce that Dr. Andre Panossian has received the "Outstanding Paper Presentations Award" at the American Society of Plastic Surgeons Annual Meeting held in Chicago, October 10-14th for Lengthening Temporalis Myoplasty for Single Stage Smile Reconstruction in Children with Facial Paralysis. Entrants were judged on the quality of the paper and the live presentation based on a variety of criteria including clarity, presentation, validity and originality. Each session had a Subcommittee Chair appointed Rater scoring the abstract. Dr. Panossian was the senior author and principal investigator.
The study focused on the application of a new surgical technique in facial paralysis reconstruction, specifically with regards to smile reanimation. Using one of the muscles for biting, a tunnel is created towards the corner of the mouth and upper lip where the muscle is then attached. Over time, the muscle can be trained to initiate a smile with excellent symmetry over older techniques. The study revealed many advantages of this procedure including shorter operative times, ability for outpatient surgery, and quicker recovery.
Dr. Panossian is a board-certified plastic surgeon specializing in craniofacial, pediatric, hand, and reconstructive surgery. He is regarded as an expert in the field of facial paralysis treatment and lectures extensively on the topic. The Facial Paralysis Program at Children's Hospital Los Angeles was started by Dr. Panossian in 2007 to address the complex requirements of children and adults affected with facial paralysis. He has expanded this model to his private practice in order to provide the highest quality of care for his patients. He has selected a specialized team committed to the highest standards of care to meet the needs of his patients, both young and old.
Debrah Henderson
Dr. Andre Panossian
Director of Communications
9033 Wilshire Blvd., Suite 200
Beverly Hills, CA 90211
310-275-5086/310-746-4707
dhenderson(at)DrPanossian(dot)com