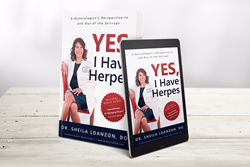 San Jose, CA (PRWEB) July 18, 2016
Released on July 14, 2016, Dr. Sheila Loanzon's book, Yes, I Have Herpes: A Gynecologist's Perspective In and Out of the Stirrups, achieved bestseller status. Within 24 hours of its launch, the book ranked #1 on Amazon.com in the following categories: Women's Sexual Health, Genitourinary Infections and STDs, and Herpes categories. The book was released in conjunction with Dr. Loanzon's Herpes Education Campaign, featuring the #GotHerpes social media hashtag.
Sheila Loanzon is an obstetrician-gynecologist who was diagnosed with herpes at the age of 20. Her medical profession and diagnosis give Loanzon a unique perspective, which she openly shares in her book. As a patient, she discusses the shame, humiliation, and denial she once felt. As an obstetrician-gynecologist, she uses her experience to provide others with powerful tools to overcome those emotions, manage their symptoms, and prevent transmission to their partners.
Yes, I Have Herpes: A Gynecologist's Perspective In and Out of the Stirrups contains medical facts, support in telling a new partner about herpes, and medical and holistic ways to manage herpes. A resource for those with herpes, the book is also an open discussion about the medical and emotional effects of herpes. Additional information about the bestselling book and Dr. Sheila Loanzon can be found at DrSheilaGyn.com. The book can purchased on Amazon.com.
####
Dr. Sheila Loanzon is a board-certified ob-gyn. She is available for media inquiries and interviews. To contact Dr. Loanzon or learn more about her and/or her book, Yes, I Have Herpes, visit http://www.DrSheilaGyn.com.