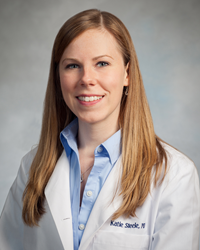 "I believe in treating the patient as a whole and making sure each patient is given the time and attention they deserve" said Dr. Steele. "Patient centered care and compassionate care are key."
Columbus, OH (PRWEB) November 23, 2015
Women's health specialist, Katie Steele, MD Ob/Gyn has joined the Specialists in Obstetrics and Gynecology of Columbus division of MaternOhio Clinical Associates, Inc. She is accepting new patients with same day appointments and easy scheduling at two convenient office locations in Westerville and Dublin.
An Ohio native, Dr. Steele attended the University of Akron in Akron, Ohio, graduating magna cum laude. She received her medical school training at Northeast Ohio Medical University. Upon completion of medical school, Dr. Steele did her residency in obstetrics and gynecology at OhioHealth Riverside Methodist Hospital. As a highly skilled OB/GYN physician, Dr. Steele provides a full range gynecological care for everything from minimally invasive GYN surgery, normal and high risk pregnancy, infertility issues and contraception, as well as transition through menopause.
"I truly enjoy providing a full range of care though all ages and stages of a women's life" said Dr. Steele. "I am passionate about the overall health of women with complete OB/GYN care."
Dr. Steele is committed to providing expert and personalized care for all women - from adolescents through all stages of a woman's life. She provides her patients with complete information about treatment options to help women make informed decisions.
"I believe in treating the patient as a whole and making sure each patient is given the time and attention they deserve" said Dr. Steele. "Patient centered care and compassionate care are key."
To learn more about Katie Steele, MD Ob/Gyn, visit: http://moca-obgyns.com/practice-specialists/physicians/bio-57.html
To request an appointment at Specialists in Obstetrics & Gynecology of Columbus, Inc., visit: http://www.moca-obgyns.com/practice-specialists/
Dr. Steele is an active member of the medical staff of OhioHealth Riverside Methodist Hospital and OhioHealth Dublin Methodist Hospital.
About OhioHealth
OhioHealth is a nationally recognized, not-for-profit, charitable, healthcare organization with Methodist roots. Based in Columbus, Ohio, OhioHealth is currently recognized as one of the top five large health systems in America by Truven Health Analytics, an honor it has received six times. It is also recognized by FORTUNE Magazine as one of the "100 Best Companies to Work For" and has been for nine years in a row, 2007-2015.
Serving its communities since 1891, it is a family of 28,000 associates, physicians and volunteers, and a network of 11 member hospitals, 50+ ambulatory sites, hospice, home-health, medical equipment and other health services spanning a 40-county area.
OhioHealth hospitals include OhioHealth Riverside Methodist Hospital, OhioHealth Grant Medical Center, OhioHealth Doctors Hospital, OhioHealth Grady Memorial Hospital, OhioHealth Dublin Methodist Hospital, OhioHealth Hardin Memorial Hospital, OhioHealth Marion General Hospital, OhioHealth O'Bleness Hospital, OhioHealth Mansfield, OhioHealth Shelby and OhioHealth Rehabilitation Hospital. For more information, please visit our website at http://www.ohiohealth.com.