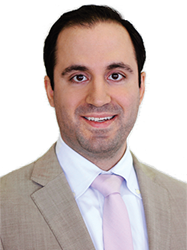 "It's so important for men and women to see that it Graves' disease and bulging eye conditions can be safely and effectively treated," said Dr. Taban
Beverly Hills, CA (PRWEB) June 02, 2016
Dr. Mehryar (Ray) Taban, a board-certified oculoplastic surgeon, was featured on an episode of the Emmy Award-winning daytime talk show The Doctors for performing an extreme eye makeover for Maria, a mother who had developed the autoimmune inflammatory condition Graves' disease during her second pregnancy. Dr. Taban, MD, has more than 10 years of training and experience helping patients suffering from thyroid orbitopathy, also known as Graves' disease, which is a disorder that causes eye muscles and fatty tissue to become swollen and inflamed. In some patients, the swelling is so severe that the eyes bulge dramatically.
Learn more about Graves' Disease: http://TabanMD.com/Thyroid-Eye-Disease-Orbital-Decompression/
"Graves' disease affects only one percent of the population, but it can occur during a woman's first trimester of pregnancy as her hormones fluctuate and impact thyroid function," said Dr. Taban. "Maria had such a severe case of Graves' disease with protruding eyes and eyelid retraction that she couldn't fully close her eyes anymore."
In order to reverse the effects of thyroid orbitopathy, Dr. Taban performed orbital decompression surgery to reduce the significant profusion that Maria had developed, while also expanding the eye sockets enough to decompress the eyes back into a more natural position. He also performed lower eyelid retraction surgery to raise the droopy lower eyelids at the same time to eliminate sclera show (white showing underneath colored part of the eye) and help eye closure.
"Bulging eyes, whether due to disease or inherited eyelid abnormalities, can be incredibly uncomfortable and lead to vision problems if not treated by an oculoplastic surgeon as well as an endocrinologist or other doctor to treat the thyroid gland," said Dr. Taban. "In addition to making a person feel self-conscious or embarrassed, as Maria felt, Graves' disease can make it difficult to blink, leading to dryness, irritation, and even vision loss."
Following surgery, Maria and Dr. Taban appeared on The Doctors to reveal the dramatic transformation that Dr. Taban was able to achieve for his patient.
"Maria suffered significant changes as a result of her disease, but we were able to give her the beautiful results she deserved to feel like herself again," added Dr. Taban. "It's so important for men and women to see that it Graves' disease and bulging eye conditions can be safely and effectively treated."
Meet Dr. Taban: http://TabanMD.com/About-Oculoplastic-Surgeon/
Mehryar (Ray) Taban, MD, is a Santa Barbara and Beverly Hills, Los Angeles oculoplastic surgeon (cosmetic and reconstructive eyelid plastic surgery) who is committed to his patients' progress and results. He offers an array of reconstructive and cosmetic procedures, with a focus on the face in general and the eyes in particular. He has had extensive training, and is triple board-certified by the American Society of Oculofacial Plastic Surgery (ASOPRS), American Board of Cosmetic Surgery (ABCS) and American Board of Ophthalmology (ABO). Due to Dr. Mehryar (Ray) Taban's expertise in eye plastic surgery, he is often called upon to help other physicians with their complex cases, and frequently publishes articles and lectures to physicians around the country.
For more information on Dr. Taban and his services, please visit http://www.TabanMD.com.
Dr. Mehryar (Ray) Taban, MD
9735 Wilshire Boulevard #319
Beverly Hills, CA 90212
(805) 669-9101
DrTabanInquiry (at) gmail (dot) com