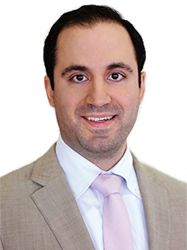 "Not only does a spacer graft typically cause surgery to last longer, it results in higher costs and an increased risk of complications, as well," said Dr. Taban
Beverly Hills, CA (PRWEB) January 16, 2017
Board-certified oculoplastic surgeon Dr. Mehryar (Ray) Taban published a manuscript in the Aesthetic Surgery Journal, the official journal of The American Society for Aesthetic Plastic Surgery, in which he details a study he conducted on lower eyelid retraction surgery. The procedure is designed to correct drooping, retracted lower eyelids, which usually result from genetics, injury, thyroid eye disease, or even a previous eyelid surgery. Even with the litany of advances in surgical techniques for eyelids in recent years, droopy lower eyelids after surgery can still occur in some cases.
"Lower eyelid retraction is not only a cosmetic issue but also a functional one as the extra exposure of the sclera, or white of the eye, results in a drier, more irritated eye, which may tear up more often or is more sensitive to light, hence affecting vision," said Dr. Taban, a renowned revision eyelid surgeon. "Because it can happen following a previous eyelid surgery, I conducted this study to test a theory I had developed as to why. Though the study was limited, the results were quite interesting."
Normally, lower eyelid retraction surgery to correct sagging lower eyelids involves the use of an internal spacer graft, such as Alloderm™ or ear cartilage, to provide postoperative support to the lower lid. However, Dr. Taban theorized that the graft was not necessary in all cases, especially in less severe ones. But it wasn't enough that the graft might be unnecessary; would the revision eyelid surgery still deliver the same benefits without the graft?
"We performed a series of procedures to correct moderate cases of lower eyelid retraction, administering them with the knowledge and consent of each patient. Our results showed improvement in the correction of the lower eyelid retraction, confirming to a certain extent my thought that spacer grafts are overused and are most likely not necessary for all lower eyelid retraction surgeries, particularly those performed to correct a more moderate sagging," said Dr. Taban. "Not only does a spacer graft typically cause surgery to last longer, it results in higher costs and an increased risk of complications, as well."
Without the insertion of the grafts during the lower eyelid retraction surgery, the results of the study showed that the patients had improved lower eyelid position by an average of a quarter of an inch (2.2 millimeters).
To find out more about eyelid retraction surgery, please visit: http://TabanMD.com/Eyelid-Retraction/
"Although every patient experienced improvement and post-operative surveys showed more than 90% patient satisfaction, the study was admittedly limited in scope. More extensive research is needed, but the initial outlook is promising. If it turns out that moderate cases of lower eyelid retraction can be safely and effectively corrected without an internal spacer graft, this will be great news for patients, especially those who've been hesitant in the past to have this surgery."
Mehryar (Ray) Taban, MD, is an oculoplastic surgeon (cosmetic and reconstructive eyelid plastic surgery) in Santa Barbara and Beverly Hills who is committed to his patients' progress and results. He offers an array of reconstructive and cosmetic procedures, with a focus on the face in general and the eyes in particular. He has had extensive training, and is triple board-certified by the American Society of Oculofacial Plastic Surgery (ASOPRS), American Board of Cosmetic Surgery (ABCS) and American Board of Ophthalmology (ABO). Due to Dr. Mehryar (Ray) Taban's expertise in eye plastic surgery, he is often called upon to help other physicians with their complex cases and frequently publishes articles and lectures to physicians around the country.
For more information on Dr. Taban and his services, please visit http://www.TabanMD.com.
Dr. Mehryar (Ray) Taban, MD
9735 Wilshire Boulevard #319
Beverly Hills, CA 90212
(877) 958-9277
DrTabanInquiry (at) gmail (dot) com