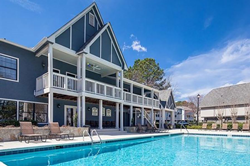 "We are excited to expand Drucker + Falk's growing portfolio in the South, and are truly honored to continue our successful partnership with IMG in the Atlanta market." - Lisa Narducci Price, Director of Multifamily Management for the Southeast at Drucker + Falk
RALEIGH, N.C. (PRWEB) June 25, 2020
DF Multifamily, a division of Drucker + Falk (DF), one of the nation's most prominent multifamily management companies, recently assumed management of two multifamily properties in Atlanta, GA. Early into the year, Investors Management Group Inc (IMG), a private real estate firm specializing in multifamily real estate syndication, Tenancy in Common acquisitions, 1031 exchanges, and asset management, awarded DF Multifamily management of two multifamily properties consisting of 439 apartment homes. The relationship between IMG and DF began in December 2017 with IMG awarding DF management of Sommerset Place Apartments in Raleigh, NC. The firms' relationship has since expanded with additional properties in Raleigh and now Atlanta.
The recently assumed Amberlake Village Apartments consists of 264 apartment homes, while The Eclipse Apartments includes 175 homes. Both apartment communities are located in Duluth, GA in Gwinnett County, about 30 minutes Northeast of Atlanta and one of the fastest growing counties in the US. Amberlake Village offers apartments and townhomes, a pool, fitness center, biking and walking trails and is currently undergoing a $2.7M planned capital improvement project. The Eclipse Apartments boasts a saltwater pool, outdoor grilling pavilion, fire pit lounge, modern cafe, and fully equipped fitness center, having recently undergone a $1.4M capital improvement project that was completed in 2019. Both properties are surrounded by award-winning schools and are just minutes from cultural amenities and hot spots, including Infinite Energy Center, Mall of Georgia, and TPC Sugarloaf, one of the most coveted private golf courses on the East Coast and a PGA Tour-affiliate.
The addition of Amberlake Village and The Eclipse Apartments brings Drucker + Falk's management portfolio to 66 apartment homes in the Southeast Region and the company's overall portfolio to nearly 40,000 apartment homes across thirteen states. Lisa Narducci Price, the Southeast's Director of Multifamily Management at Drucker + Falk, said, "We are excited to expand Drucker + Falk's growing portfolio in the South, and are truly honored to continue our successful partnership with IMG in the Atlanta market. We look forward to working with owners and property managers and focusing on achieving our client's objectives."
About Drucker + Falk
Founded in 1938, Drucker + Falk is a full service real estate and investment firm managing a diverse portfolio of nearly 40,000 apartment homes and approximately 3,000,000 square feet of office, retail and industrial space in 13 states. In addition to managing a broad range of properties, including class A+ to affordable apartment communities, mixed-use and all types of commercial properties, Drucker + Falk partners with clients on developing new properties, renovating and repositioning assets, converting historic properties to unique, upscale apartment homes and offers commercial leasing and sales services. For more information visit http://www.druckerandfalk.com.