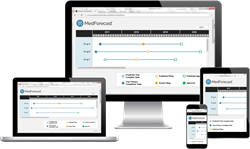 Chicago, IL (PRWEB) September 07, 2017
Competitive Intelligence consulting group Proactive Worldwide, Inc. (PWW) confirmed the rollout of its highly-anticipated MedForecast™ analytics tool for the Pharmaceutical industry during Pharma CI's 2017 USA Conference and Exhibition in Parsippany, NJ on September 12-13, 2017.
In addition to leading a panel discussion on the expanding role of competitive intelligence in Pharma, PWW will also provide participants their first glimpse of the predictive power inherent in MedForecast™, said Erik Prentice, PhD., Senior Vice President, Healthcare and Life Sciences division. Prentice added, "This conference is an ideal venue to showcase our next-generation forecasting tool that gives pharma clients the power and the means to evaluate competitors' new drugs, predict approvals, and provide alerts when these drugs come to market."
Preliminary information on MedForecast's features and benefits highlight its real-time data collection and updating technology, integrative analytics, mobile compatibility, Bayesian inference modeling, and probabilistic modeling with confidence intervals.
Prentice said that generating exceptionally accurate drug approval and launch predictions will allow Pharma clients to take more proactive stances in future investment decisions, determining how to best compete in the highly competitive world of drug research and innovation.
For more information or to register for this event, please visit the following site: http://usa.pharmaciconference.com/.
About Proactive Worldwide, Inc.
Proactive Worldwide, Inc. is a global research and strategic intelligence consulting firm that provides evidence-based, constructive information within the competitive intelligence, market intelligence, and customer insights domains. Anchored by primary source research for over 21 years, Proactive's multilingual professionals assist our clients with offerings that include but are not limited to competitive research and assessment services, market entry and defense strategies, war gaming simulations and scenario planning events, and customer experience and user experience studies. To learn more, visit http://www.proactiveworldwide.com